Hayabusa Ultra-Lightweight Jiu Jitsu Gi
Hayabusa Ultra-Lightweight Jiu Jitsu Gi
FREE SHIPPING
We offer free shipping for the continental US and on orders over $25 in Canada.
This promotion is not applicable to international orders, previous purchases or gift cards. Cannot be redeemed for cash. Terms of offer are subject to change.
STEPS FOR EXCHANGING OR RETURNING AN ITEM:
Visit our self service exchange portal and simply add the same email you shopped with at the top of the page.
Once your return is authorized, you'll receive step-by-step instructions and a prepaid shipping label via email.
INSTANT REFUNDS
When you choose to exchange an item you may qualify for instant refunds which make it easy and speedy to get your new item in exchange for the one you didn't want to keep.
Elevate your training and competitions with this ultra-lightweight gi.
This gi's ultra-lightweight construction allows you to move fluidly with no restriction as you roll. Its fabric is perfect for competition, and its durability makes it the perfect training gi as well. Dominate the mat in a Hayabusa Ultra-Lightweight Gi!
Designed for comfort and performance
Lightweight build for unrestricted mobility
Constructed for extreme durability
Weave: Pearl Weave Top
Pants: 8oz ripstop cotton-polyester blend
Reinforcements: lapels, knees, sleeves and general stress areas
Draw String: Stretch drawstring
IBJJF Compliant: Yes (white, blue, black)
Weight: (Weight may vary) A0 - 3.1lbs/1.4kgs, A1 - 3.3lbs/1.5kgs, A2 - 3.5lbs/1.6kgs, A3 - 3.8lbs/1.7kgs ,A4 - 4.0lbs/1.8kgs, A5 - 4.2lbs/1.9kgs
Model Information: Mike: 5'10", 185lb, A2 Jacket. Alison: 5'7", 170lb, A1 Jacket.
Best for: Entry-level / Intermediate / Advanced
Care instructions: Pre-treated to prevent color fade. Wash cold and hang to dry.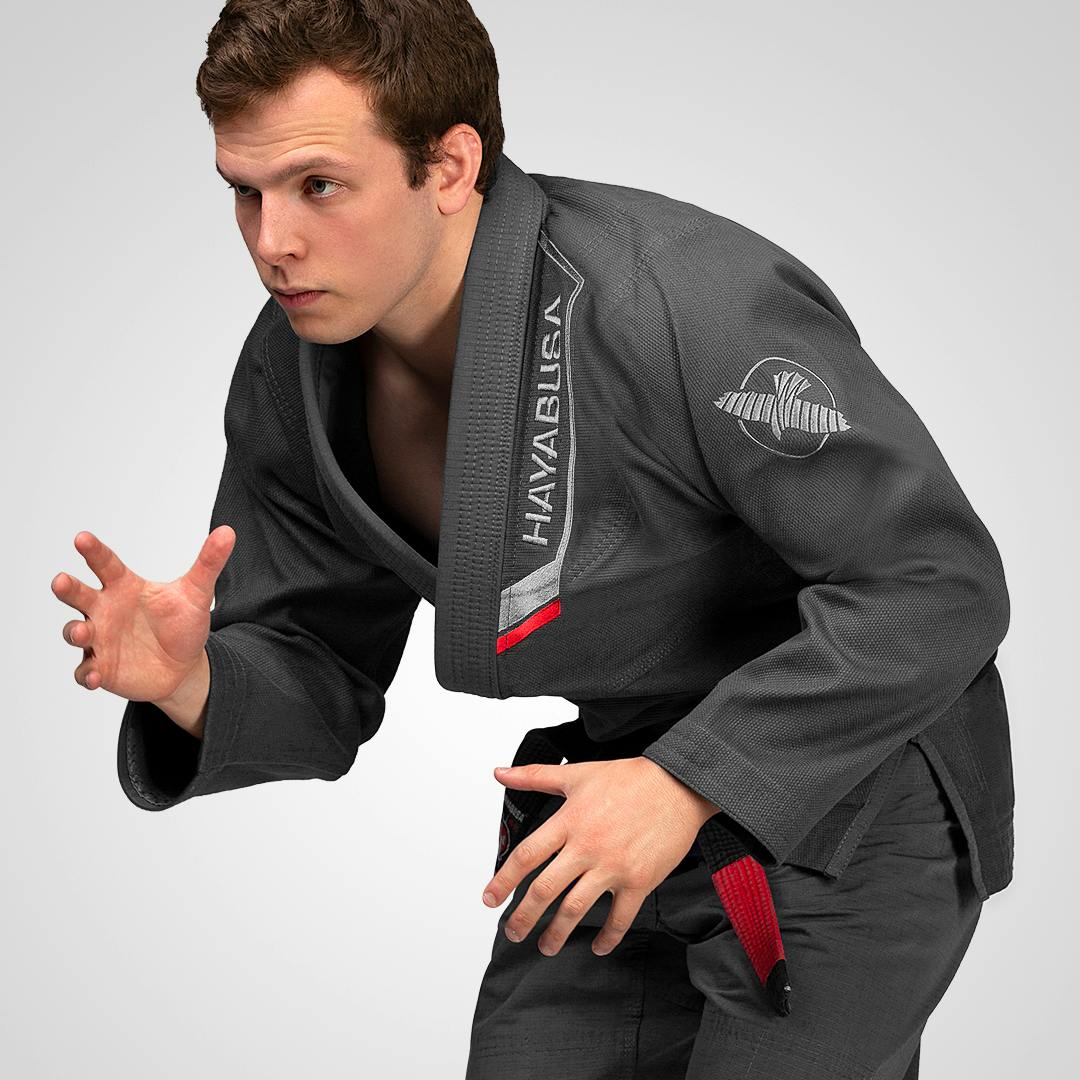 Unrestricted
The Ultra-Lightweight Gi features our lightest design to keep you cool and allow for fluid movement through any technique or position while you train.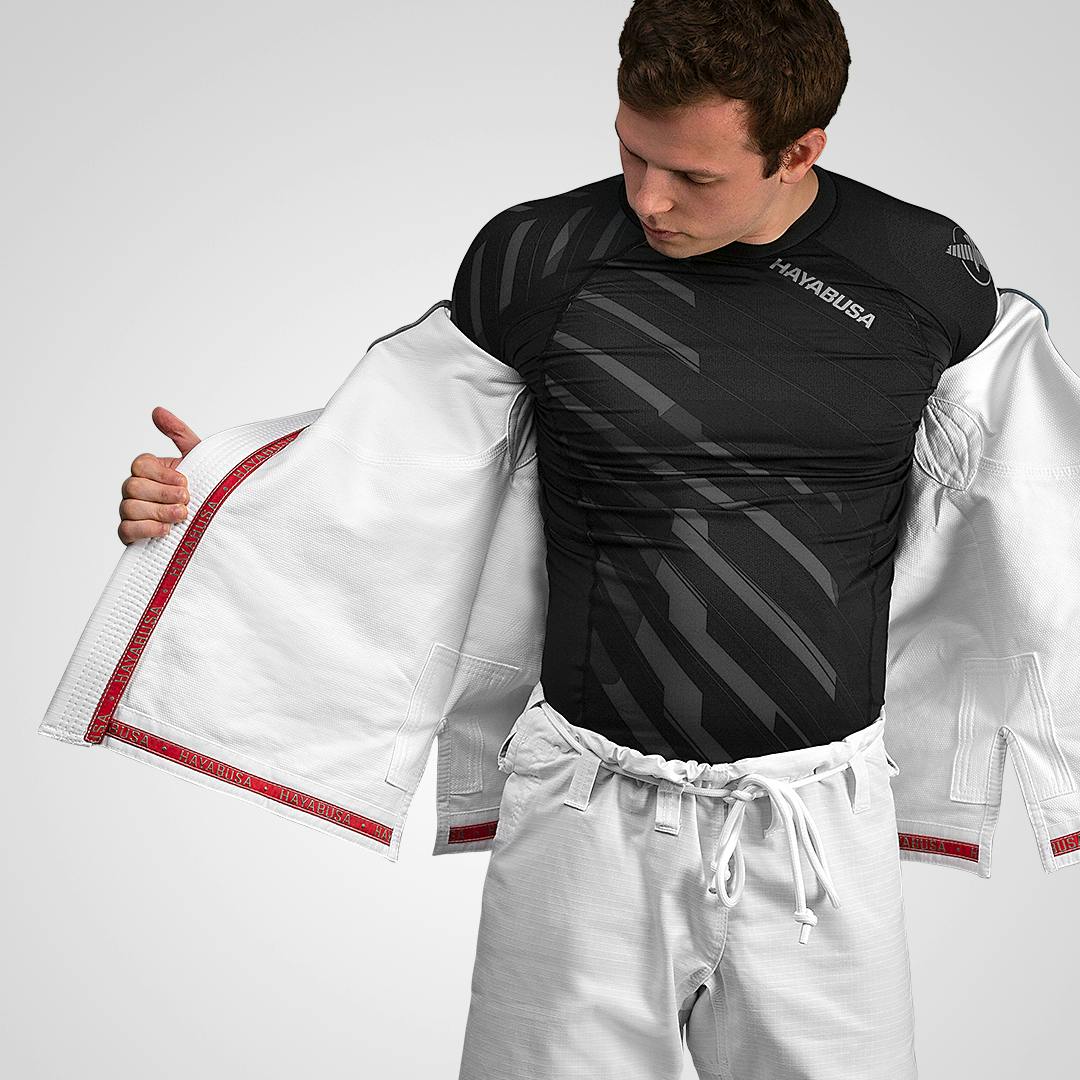 Low Weight. High Quality.
This gi sets new standards for competition gis, with a light, yet durable pearl weave fabric that doesn't sacrifice quality or style.
Beat The Scale
On competition day, you should be thinking about Jiu-Jitsu, not making weight. This is our lightest gi, designed to help give you an edge during weigh-ins.
FAQ
What size should I buy?
Please reference our sizing chart
Is this Gi IBJJF Approved?
Yes! This gi also comes in the three IBJJF compliant colors: white, blue, & black.
How much does the Gi weigh?
Weights may vary: A0 - 3.1lbs, A1 - 3.3lbs, A2 - 3.5lbs, A3 - 3.8lbs, A4 - 4.0lbs, A5- 4.2lbs
How should I wash my Gi?
Pre-treated to prevent color fade. Wash cold and hang to dry.
How is this Gi different from other Hayabusa Gi's?
The Ultra-Lightweight Gi is Hayabusa's lightest gi yet. If you compete regularly or strive to compete in the future, this is the gi for you. It's great for beating the scales but has the durability for everyday training.