Hayabusa Goorudo 3 Gold Weave Jiu Jitsu Gi
Hayabusa Goorudo 3 Gold Weave Jiu Jitsu Gi
FREE SHIPPING
We offer free shipping for the continental US and on orders over $25 in Canada.
This promotion is not applicable to international orders, previous purchases or gift cards. Cannot be redeemed for cash. Terms of offer are subject to change.
STEPS FOR EXCHANGING OR RETURNING AN ITEM:
Visit our self service exchange portal and simply add the same email you shopped with at the top of the page.
Once your return is authorized, you'll receive step-by-step instructions and a prepaid shipping label via email.
INSTANT REFUNDS
When you choose to exchange an item you may qualify for instant refunds which make it easy and speedy to get your new item in exchange for the one you didn't want to keep.
A gi to compliment your jiu jitsu journey. It's heavier design means it has the durability you need for those long training sessions. But its unique gold weave cotton is comfortable to wear and never distracts you from the task at hand. The Goorudo Gi is tough but also gentle, just like your Jiu Jitsu.
Weave: Gold weave top
Pants: 12oz twill cotton pants
Reinforcements: Lapels, knees, sleeves and general stress areas
Draw String: Stretch drawstring
Weight: A0 - 3.9 lbs, A1 - 4.2 lbs, A2 - 4.5 lbs, A3 - 4.6 lbs, A4 - 4.7 lbs, A5 - 5.8 lbs
IBJJF Compliant: Yes (excludes Grey)
Model Information: Mike: 5'10", 185lb, A2 Jacket. Alison: 5'7", 170lb, A1 Jacket.
Best for: Entry-level / Intermediate / Advanced
Care instructions: Pre-treated to preserve color. Wash cold and hang to dry.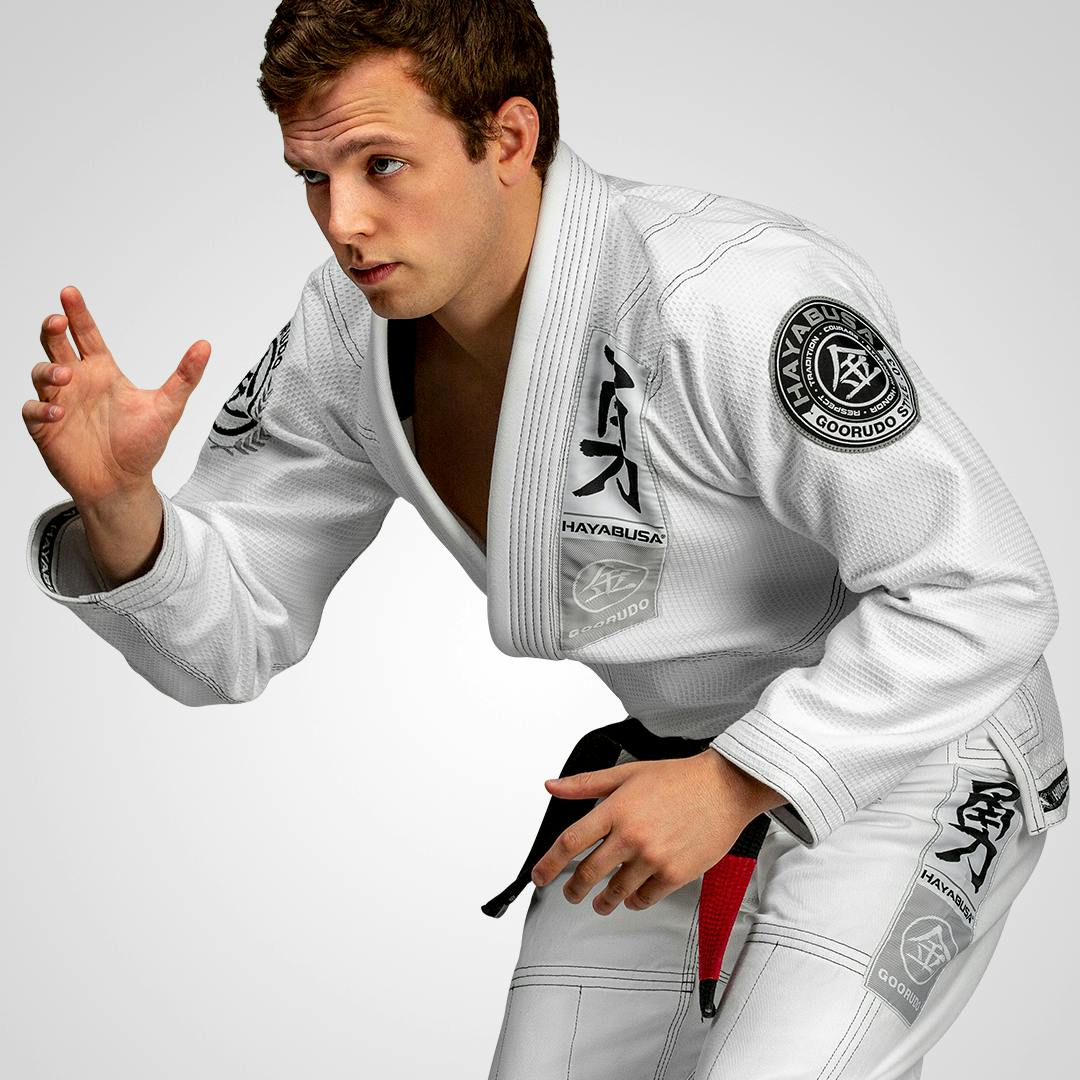 Built For Battle
This gi was made to be sturdy, tough, and durable to withstand hard training, strong grips, and all the challenges Jiu Jitsu throws at you.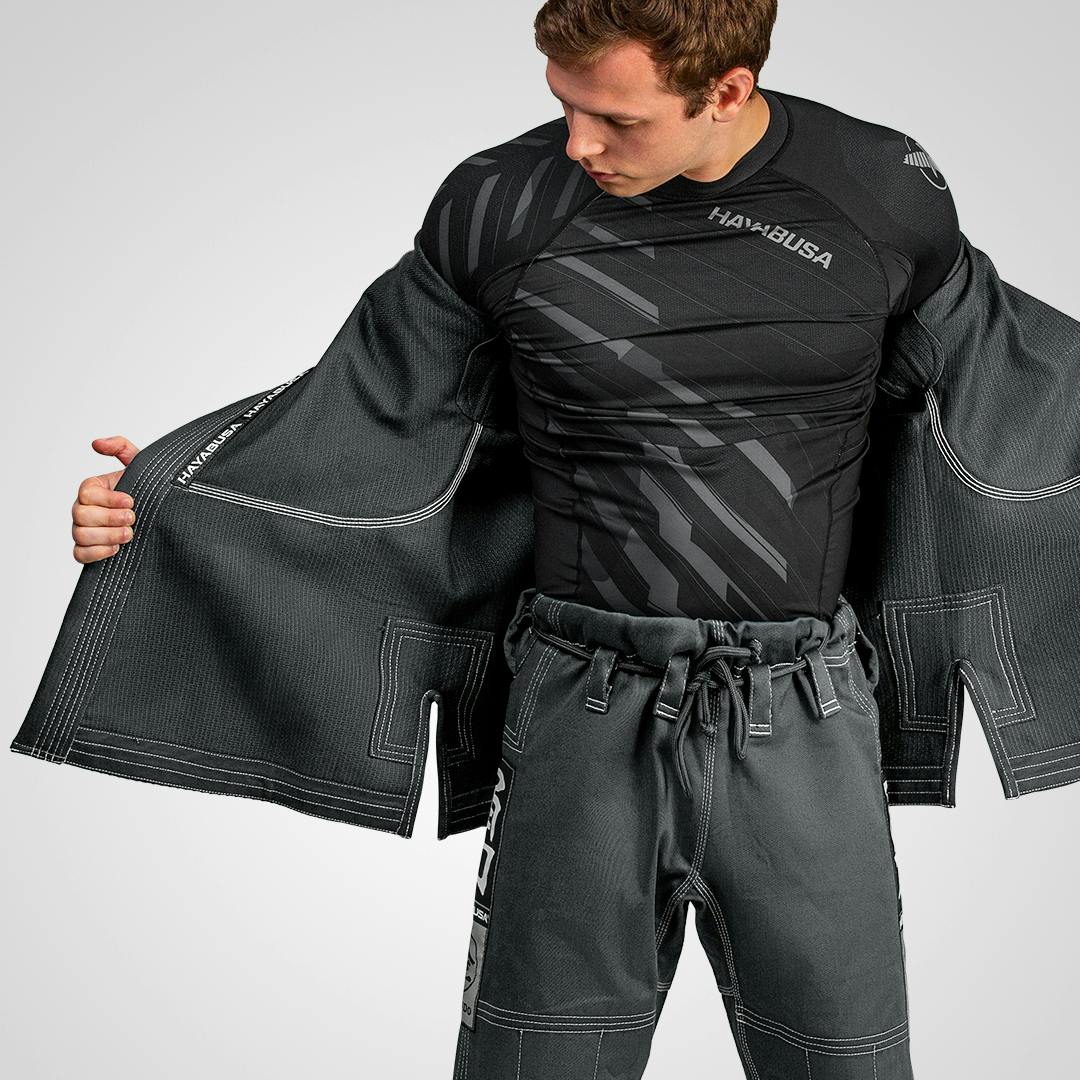 Quality Craftsmanship
The Goorudo Gi uses Hayabusa's unique gold weave fabric, which means that despite its durability, this gi is still soft and feels great to wear.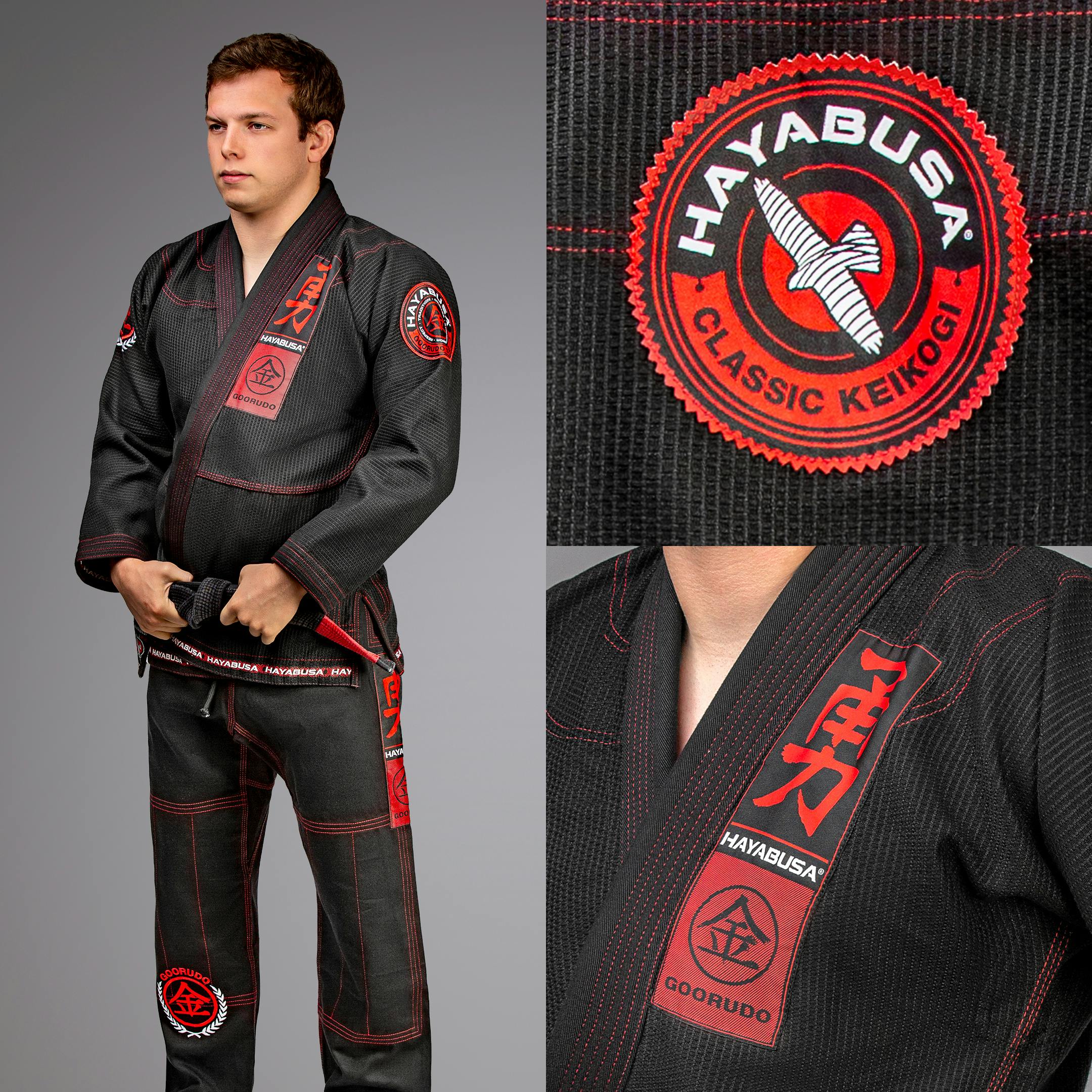 Unique Design
The intricate embroidery and patches create a distinct appearance that's unique to the Goorudo line.
What size should I buy?
Reference sizing chart
Is this gi IBJJF compliant?
Yes! All of our gi's are designed to meet IBJJF requirements. This gi comes in the three IBJJF approved colors: white, blue, and black (excludes grey).
How much does the gi weigh?
A0 - 3.9 lbs, A1 - 4.2 lbs, A2 - 4.5 lbs, A3 - 4.6 lbs, A4 - 4.7 lbs, A5 - 5.8 lbs
How should I wash my gi?
Pre-treated to preserve color. Wash cold and hang to dry.
How is this gi different from other Hayabusa gi's?
The Goorudo 3 uses a gold weave fabric which means it's heavier and thicker than our other gis. Its heavyweight design feels comfortable and soft when you roll, but still offers incredible durability that will last for years to come. If you are looking for a reliable gi, look no further.