Hands are tools that get taken for granted — until you can no longer use them.
For the better part of a decade, Jo Colette has shielded her hands in rubber gloves, picked up her tattoo machine, and created artwork on the skin of her clients. That handiwork represents important moments, milestones or inspirations in their lives.
Colette's artistry ranges from black and grey, geometric mandala dot work, featuring a lion, to the head of an elephant peeking through a colorful, prism, clutching a wheat stock in its curled trunk.
That love of drawing was fostered at a very early age. In fact, Colette's mother still has a box of drawings from when she was about 3 years old. It was a passion her mother nourished.
As soon as I could start drawing," Colette said, "my mom really encouraged it. I love being creative. I love drawing, I love painting, doing anything with my hands. Anything creative, really, that involves my imagination. My mom gave me, kind of, the opportunity and the tools to explore that as soon as I was ready to and I just kept going through my childhood."
Transferring that artwork from paper to skin was something Colette said she wanted to pursue around the time she turned 15. That's when she began noticing tattoos, through her involvement in graffiti culture, which piqued her interest. She contemplated parlaying her skills into illustration, graphic design, animation or anything related, but tattooing was her calling.
"None of it felt right, so when I found something that was a little bit off the beaten path and something I could also start pursuing by myself, I went for it," Colette said. "And it was the right fit."
If Colette injures her hands, well, her joy, in addition to her livelihood and expression, are hindered. This fact has come to the forefront since she began practicing the martial art Muay Thai in 2016. The sport utilizes eight points of contact to strike and defeat opponents, including the hands.
"Oh absolutely. I need my hands everyday for my work," Colette said. "I'm actually kind of battling with a little bit of a wrist thing right now and it was completely a fluke where I just tried something new and it didn't work for me. I just tweaked my wrist a little bit, so even just a small injury like that, it reminds me that the proper protection is very important for me."
No matter the joy those other things bring her, still nothing compares to her most important role: Mom. The tasks she manages as a parent are paramount when it comes to keeping her body in a healthy state.
"At the end of the day I've got a 5-year-old son that I need to make food for and tuck into bed and bathe and that has to come first before enjoying a combat sport," she said.
She gets constant reminders from friends and family as well. Some have asked if she should get her hands insured in case she suffers an injury bad enough to keep her from tattooing.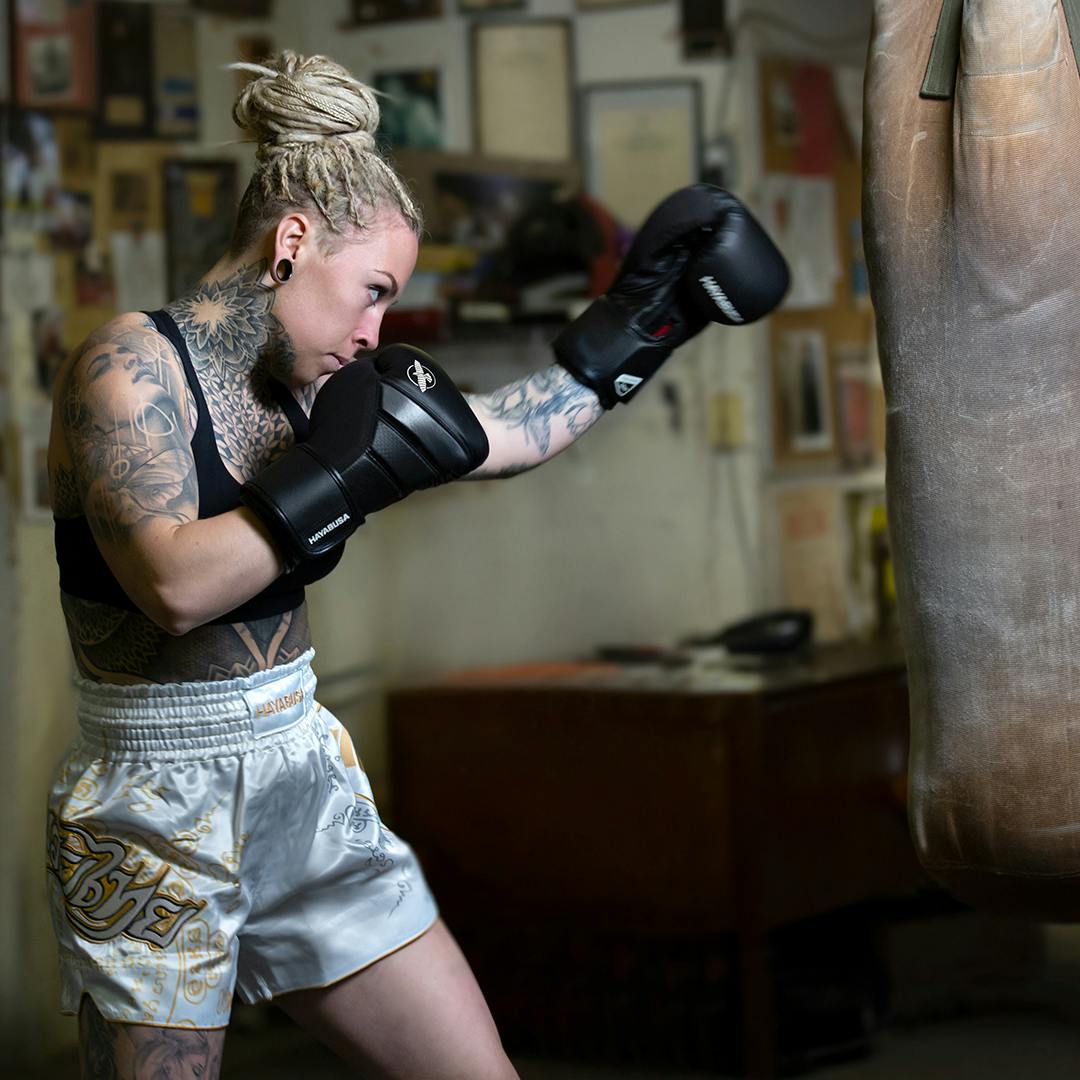 They stood apart from other gloves I've worn and used in the past
Colette agrees, the questions and concerns are valid, but the truth of the matter is Muay Thai has been an integral key to Colette's recovery process. She spent several years battling addiction to alcohol and drugs and when she came out of that fog, Muay Thai helped her gain a sustainable level of clarity. She's strengthened her body and her mind, so the likelihood of Muay Thai being dispatched are small.
"I'm not going to stop myself from doing something that brings me so much joy and fulfillment and happiness so therefore protection is key," she said.
Have you read Hayabusa's Best Boxing Gloves of 2020? You should. Click here to find out more.
During her years of training Muay Thai, Colette has worn various types of gloves spanning several brands, all differing in fit, protection, and build quality. When Colette finally had an opportunity to train in Hayabusa gloves, it was an experience like no other.
"They stood apart from other gloves I've worn and used in the past," Colette said. "Specifically the support around the wrist I noticed was very strong."
The praise didn't stop there.
In addition to the glove's lining, which features silver thread technology to help keep the gloves fresh, the custom fit, thanks to the patented closure system, was another standout feature.
"My hands felt safe and protected when I was hitting with them," she admitted.
Read about the Best Boxing Gloves of 2020 here.
This is the second of a three-part series on Jo Colette and Chris Howe.