Ready to buy your first pair of boxing gloves, or is it time to upgrade to new ones? We have you covered. When securing the right boxing gloves, you must take into consideration size, weight, fit, and fill material, among other factors. You'll also want to think about the intended use since ones designed for sparring differ from boxing gloves used to train for competition. 
However, whether you're just starting out or a seasoned fighter wanting to explore your options, our boxing gloves guide will take you through all you need to know.
Boxing gloves should always fit snugly around the hands and wrists but not so tight that it prohibits movement. The goal is to provide protection and prevent injury regardless of whether you're using them as part of a fitness regimen or to prepare for a competition fight. 
Bag gloves - Bag gloves are designed to help you focus on form and are intended for training rather than handling the force of another's punches. This type of boxing glove also provides ample padding for extra knuckle protection with repetitive bag, mitt, and/or pad work. 

Sparring gloves - Heavier than bag gloves, sparring gloves are designed for shock absorption from hard punches while also allowing for mobility. These are primarily used for partner training and when preparing for a competition. 

Competition boxing gloves - This type of boxing gloves combine the benefits of bag gloves and sparring gloves and often have lace-up closures versus velcro wrist straps. Though, when buying competition boxing gloves, you want to ensure their weight aligns with competition regulations. 
Boxing Gloves Sizes & Weight
In addition to knowing the different types of boxing gloves, it's also important to keep in mind not all gloves carry the same weight. Rather than guess the right size, you can measure your hand circumference to achieve an accurate fit. To do this, use a flexible measuring tape to capture the entirety of your hand at the knuckles. Then, use the recommended sizing chart below:
S  - 6 to 7.5 inches 
M - 7.5 to 8.5 inches 
L - 8.5 to 9.5 inches 
XL - 9.5+ inches 
If your hand size falls on the cusp, try on both to see which fits better. Exact sizing matches vary by boxing glove manufacturer, which means you may be one size when using one brand and another when wearing another. 
After you've determined your glove size, the next thing to consider is the boxing gloves' weight. The lightest boxing gloves normally start at 10 oz. and go up in size by twos, typically maxing out at 20 oz. Lighter boxing gloves have less padding and are ideal for everyday training. Boxing gloves in the 10-, 12-, and 14-oz. range are still heavy enough to protect your knuckles but light enough to support form and mobility.
For boxing gloves used to spar, you'll want ones with more padding. Extra punching force to and from a training partner requires the heft of 16-, 18-, or 20 oz. boxing gloves. The added weight will provide better shock absorption and protection for your hands, wrists, and knuckles. Finally, your body weight is also a determining factor; the heavier you are, the heavier your boxing gloves' weight needs to be.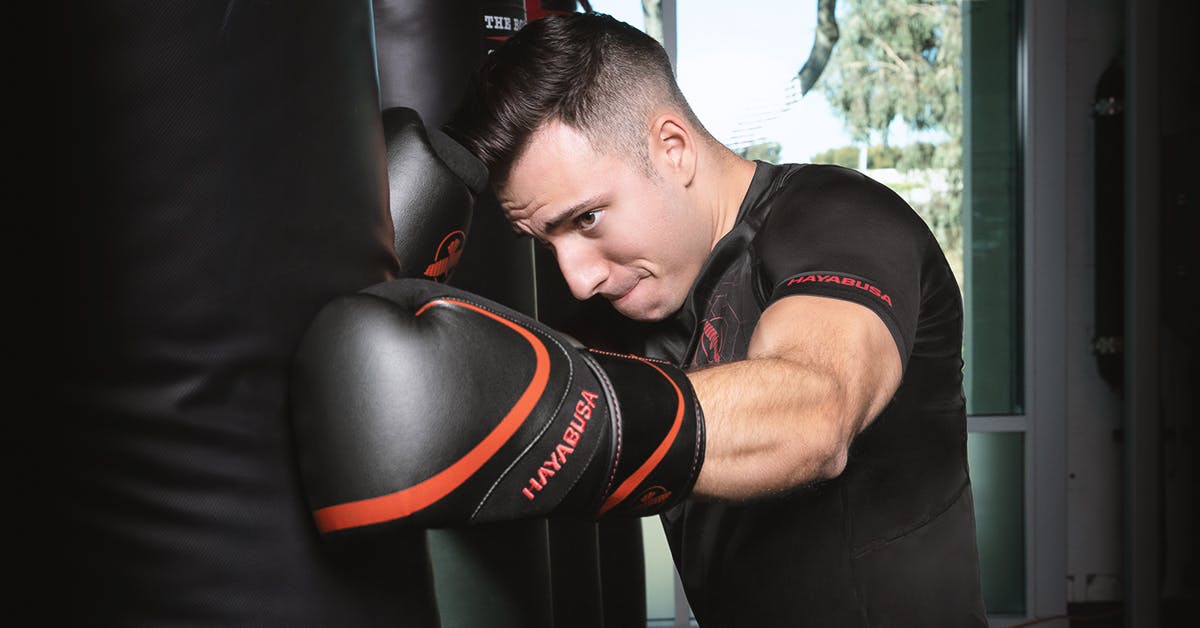 Though all boxing gloves manufacturers routinely carry the same range of sizes and weights, the quality of boxing gloves can vary widely due to the construction. Buying boxing gloves based on size and weight matters but so does the material. You'll quickly tell a difference between poorly made boxing training equipment and products with high performance and long-lasting support in mind.
What are Boxing Gloves Made of?
The two most commonly used boxing gloves materials are vinyl and leather. Though vinyl has been used for years, the staying power of leather is often unmatched. However, it's important to note both polyurethane/PU material and leather can range in quality from cheap and low-quality to luxury premium and high-performance grades. 
Fortunately, relying on a brand like Hayabusa gives you access to an entire lineup of boxing gloves that are thoughtfully designed by curating top-of-the-line materials and testing for performance, protection, and comfort. For example, our world-renown T3 Boxing Gloves are made with Vylar® engineered leather, and our H5 Boxing Gloves use PU-engineered leather. Upholding premium construction gives our fighters access to the best.
What are Boxing Gloves Filled With?
Generally, boxing gloves are filled with some type of latex foam padding. As with boxing gloves materials, we are selective when choosing both the lining and padding. Our T3 Boxing Gloves use Deltra-EG™ multi-layered technology foam for ultimate knuckle protection and are lined with temperature-regulating AG™ fabric to keep hands cool.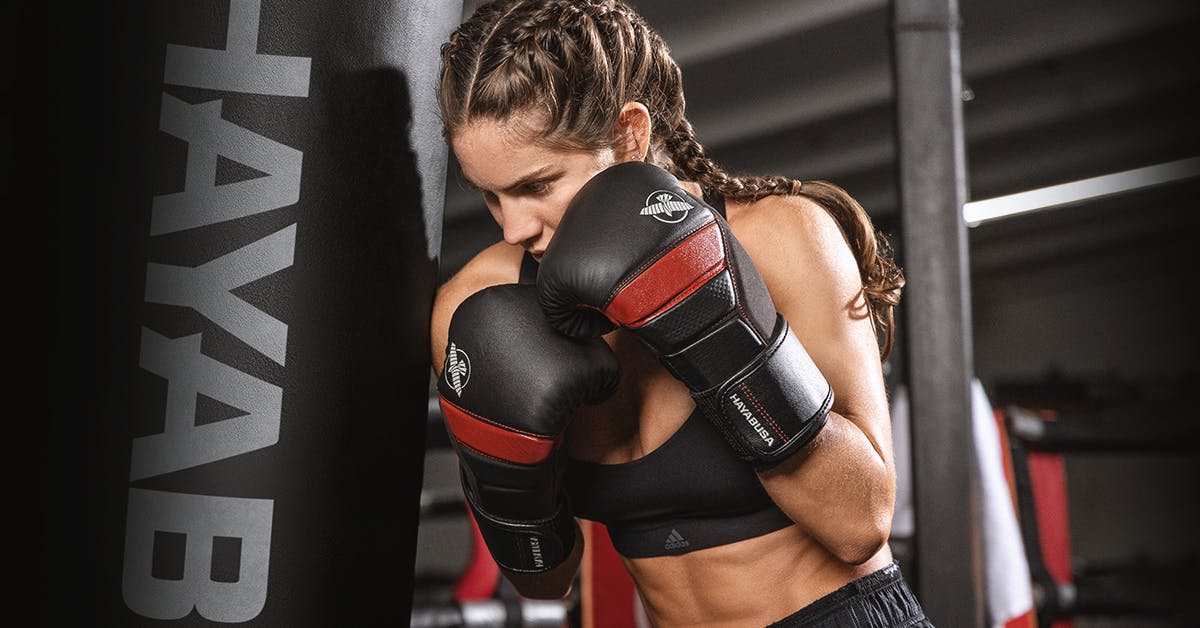 Lace-Up vs Hook and Loop Boxing Gloves
Deciding between lace-up vs. hook and loop boxing gloves? The difference between the two ultimately comes down to preference. Hook and loop, also known as velcro, boxing gloves can be put on without assistance and tightened as needed. You simply loop the velcro band around the wrist and pull the strap securely. Whereas lace-up boxing gloves require a helping hand and can fit more securely for sparring and competition.
Once you've chosen your ideal pair of boxing gloves, you'll want to preserve their value with regular care and maintenance. Bacteria live off sweat and moisture which means you need to wipe them down immediately after use. Then, open the wrist straps and allow the gloves to air dry in a well-ventilated area. Although, be sure to keep them out of the sun to prevent cracks and fading. 
It's also a good idea to deodorize your boxing gloves. In a pinch, you can use a dryer sheet or baking soda. Wipe a dryer sheet around the inside and exterior of your gloves. Or, sprinkle in baking soda and let it sit for a few minutes before wiping it out completely. However, we recommend using our Glove Deodorizer to absorb excess moisture, eliminate odor, and prevent the growth of mold, mildew, and bacteria. It's filled with all-natural moso bamboo charcoal to keep your boxing gloves smelling fresh.
Can You Put Boxing Gloves in a Washing Machine or Dryer?
We advise against cleaning your boxing gloves in a washing machine. The agitation and potential chemical interactions from machine detergent can break down the materials and affect the shape of the boxing gloves.
Best Boxing Gloves for Beginners
We have boxing gloves for beginners, intermediate users, and advanced fighters. Our S4, H5, and T3 Boxing Gloves are ideal for fighters just starting to train or using them for fitness classes like kickboxing or muay thai. Each offering a varying level of knuckle protection, an ergonomic fit, and splinting design for ultimate wrist support as you work on your technique and speed. 
Whether you're buying your first pair of boxing gloves or advancing to another weight or style, we always focus on delivering the best.