UFC on FX: Maynard vs. Guida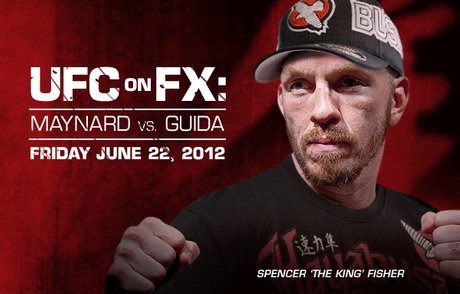 UFC on FX: Atlantic City, NJ
Spencer 'The King' Fisher is looking to close the chapter on one of the best 'rivalries' in recent history. Fisher's opponent, for the third and possibly final time, is Sam Stout. These two warriors each hold a victory over the other and is it time for a tie breaker. The previous two contests were both decisions and both were also fight of the year candidates. This time Spencer is going for the finish and will be holding nothing back. Having lost his last 2 in a row, 'The King' is more motivated than ever and getting the chance to put an end to a long debated rivalry is the proverbial 'icing on the cake'. Spencer, a southpaw with great boxing, has been adding some kicks and takedowns to his ever improving skillset and is a more well-rounded and complete fighter. Hayabusa is proud to partner with Spencer 'The King' Fisher and wishes him the best of luck in the final chapter of this amazing fight trilogy.
Brian 'bad boy' Ebersole is one of the most seasoned fighters in the UFC. Currently riding a 10 fight win streak, and undefeated in the Octagon, Ebersole looks to continue his climb up the welterweight ladder. 'Bad boy' has 20 wins by submission and 14 by (T)KO and, with over 60 professional MMA fights, has been in every position, good or bad, that a fight could take him. Ebersole has admitted that his opponent is, in his own words, "Younger, smarter, better looking, more athletic…", but follows it up with "fights aren't won via 'tale of the tape', they aren't won on paper." Brian carries that intangible X factor into each and every fight. Ebersole's drive and determination to prove that he is the best at 170 lbs. is reflected in his choice of training equipment. Brian 'Bad Boy' Ebersole has been training and competing in Hayabusa since 2009. Hayabusa is proud of the continuing partnership and expects another great fight from Ebersole.

Hear Brian 'Bad boy' Ebersole speak about Hayabusa in his own words:
http://youtu.be/SpEFIbcj6C4

For the first time in his professional career, Rick 'The Horror' Story has lost two in a row. Rick, after his most recent loss to top contender Martin Kampmann, has had a few months off to rest, heal up, and return to the basics. With a full training camp behind him, Story will look to start a new chapter in his UFC career. Standing in the way is UFC newcomer Brock 'The Machine' Jardine. Both fighters have great wrestling and both love to stand and bang, but it will be the Octagon experience that should provide the edge for Rick. Hayabusa is excited to, once again, partner with Rick 'The Horror' Story and expects another exciting fight.

Rugged, tough and as durable as they come, Dan Miller has never been knocked out or submitted in his MMA career. This middleweight warrior has lost his last two fights, but has rededicated himself and will now make his 170 lb. debut. Miller, a high school wrestling standout, will have the New Jersey crowd behind him, as he fights in his home state. Motivated, hungry and ready for action, Dan Miller is set to blaze a new path in the welterweight division. Hayabusa is proud to partner with Dan Miller and expects a great 170 lb. battle.