UFC on FX 7 - Belfort vs. Bisping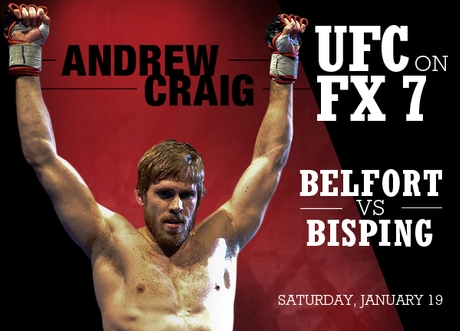 On January 19th, the UFC takes its night of fights to beautiful Sao Paulo, Brazil, at the Ibirapuera Arena. The fight features a middleweight contest fans have been asking for: Vitor Belfort versus Michael Bisping. Both fighters are looking to get back to number-one-contender status in hopes of being the man to unhinge Silva's vise-like lock on the title.

But the pivotal main bout isn't the only middleweight contest fans will be watching. When Texas native Andrew Craig and Brazilian product Ronny Markes square off, the arena will erupt! One thing is for sure; Brazilians love to root for the home team, and Markes will certainly have the crowd behind him. Markes is a BJJ practitioner sporting a 13-1 record with his only two fights in the UFC tallied as decision victories. He hopes to make it three-in-a-row in his home country.

Standing in Markes' way is a UFC up-and-coming middleweight in his own right; rising star Andrew Craig. The Texas native has amassed an unblemished 8-0 mark, and sports two back-to-back wins in the UFC as well. Most memorable among those wins was a crushing KO by head kick to Markes' countryman, Rafael Natal.

Markes is going to try to end the fight early with strikes or a submission. Meanwhile, Craig's superior wrestling and equally impressive BJJ skills will allow the American to push this fight to the distance as he no doubt seeks to conclusively dominate his opponent in convincing fashion. And we all know if Craig doesn't feel the ground-and-pound working for him, he has quite the arsenal of devastating strikes to unleash should he so choose. One thing's for sure: when Craig walks to the Octagon on Saturday night in his Chikara™ fight shorts, he won't hear the Brazilian crowd's cheers. But his prediction is that it won't take him long to silence them!

Tune in for a great night of fights and watch the best the UFC has to offer!