UFC on FX 1 Guillard vs. Miller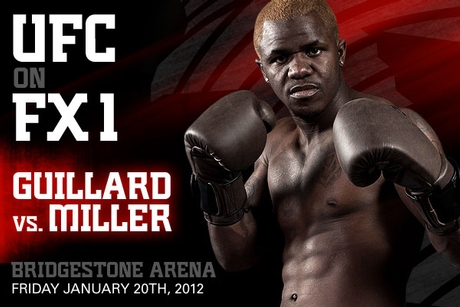 Melvin Guillard is back in action again. His last outing, a first round submission loss to Joe Lauzon, was a tough loss, as a win could have led to a possible title shot. Guillard has been on the cusp of greatness for a very long time and now he is looking to finally step across that line. The man standing in his way, Jim Miller was riding the same wave of momentum, until he suffered his first loss in two years to Ben Henderson. Guillard, who loves to stand and bang, will have to control the pace of the fight and keep it on the feet. Miller is a 'down and dirty' type fighter who loves to take opponents down and grind them into the mat. Melvin has been working on his takedown defence, but he will have to be extra sharp in this pivotal battle. 'The young assassin' has been a staple at Greg Jackson's academy for a while, but has branched out to try and expand his training.
Melvin has moved camps and is training with the crew at Imperial Athletics in Boca Raton, Florida. Working with perennial #1 contender Rashad Evans, Guillard hopes that his improved wrestling technique will help him in his upcoming bout. Melvin is explosive, aggressive and powerful, but he will have to keep his composure under pressure again Miller. Never lacking for confidence, Melvin 'the young assassin' Guillard, always brings his best to every fight. It was his overconfidence that cost him his last fight, but he has learned from that loss and will look to show the MMA world what he can do. Hayabusa is proud to, once again, partner with Melvin and is excited to see how he performs wearing the new Haburi Compression Shorts.

Christian Morecraft has had a rollercoaster ride in the UFC thus far. Going 1-2 in the UFC is tough, but so were his opponents. Morecraft has fought Stefan Struve, Sean McCorkle and Matt Mitrione. These three talented, up and coming fighters represent some of the hottest prospects in the heavyweight division. Christian has his back against the wall, but that will not stop him from bringing the fight to his next opponent Pat Barry. Morecraft has never heard the final bell, as all his fights have ended before the time ran out. With 3 (T)KO's and 4 submissions, Christian is a threat where ever the fight goes. His opponent, Pat Barry, is a kickboxing powerhouse who loves to kick the legs out of his opponents. Morecraft will have to use his size and strength to push Barry around. Hayabusa is proud to partner with Christian Morecraft and wishes him the best of luck in this pivotal bout.