UFC on Fuel TV 5 Struve vs. Miocic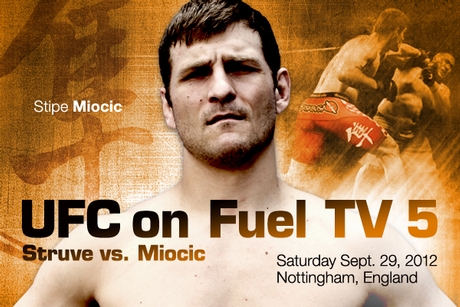 UFC on Fuel TV 5: Struve vs. Miocic

Stipe Miocic is about to face his biggest test in the UFC. In Nottingham, England, Stipe is in the main event against 6'11" Stefan 'Skyscraper' Struve. Struve has the height, reach and experience advantages in this bout, but Miocic is prepared. Stipe is a former golden gloves boxer, nationally ranked collegiate wrestler and all around outstanding athlete. Miocic is an incredibly fast and technically sound boxer, who incorporates a variety of kicks and elbows with his punches. Stipe finished all but one of his fights (9-0 with 7 KO's and 1 submission) and will look to use his wrestling to control his much taller opponent. Miocic will have his hands full, as Struve is a durable fighter with very good submissions. Stipe always puts on exciting fights and Hayabusa is excited to once again partner with Miocic. Stipe will be wearing the Croatian Compression shorts into the Octagon for a second time. Hayabusa is looking forward to another exciting fight and wishes Stipe Miocic the best of luck.

Yves 'Tiger' Jabouin is one of the most technically sound kickboxers in the Bantamweight division. Currently riding a three fight win streak, Jabouin is about to step into the Octagon against one of the UK's native sons, Brad 'One Punch' Pickett. Both fighters have similar physiques and fight experience, but it should be Yves' wrestling that makes the difference. 'Tiger' has trained with one of the best wrestlers in MMA; Georges St-Pierre. With a solid wrestling base, Jabouin should be able to control the pace of the fight and use his striking to its fullest extent. Hayabusa is proud of the ongoing partnership with 'Tiger' and expects an explosive fight.

Hayabusa would also like to wish Brad Tavares, Jason 'Shotgun' Young, and Robbie 'Problems' Peralta the best of luck in their upcoming bouts. Tavares rebounded from a loss recently and would like to make it two wins in a row. 'Shotgun' and 'Problems' are set to face each other in a 145 lb. battle.