UFC on FOX 8: Hayabusa Breakdown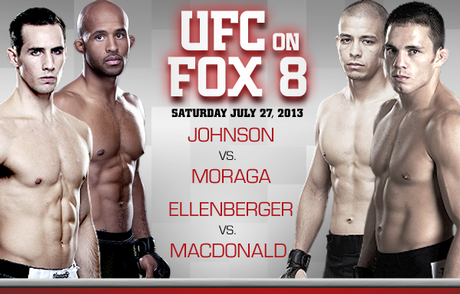 The flyweight title is up for grabs in Seattle at UFC on FOX 8 as the reigning flyweight champion, Demetrious Johnson (17 - 2 - 1) defends his belt against relative newcomer and fourth-ranked flyweight fighter, John Moraga (13 - 1 - 0).
Welterweight raising stars, Jake Ellenberger and Rory MacDonald set their sights on victory this Saturday for the co-main event of the evening. The bout plays a critical role for both rival fighters, deciding who will have a chance at the coveted Welterweight Champion title.
Rounding off the main card bouts; Robbie Lawler vs. Bobby Voelker and Jessica Andrade vs. Liz Carmouche starting on FOX at 8PM ET.
Team Hayabusa at UFC on FOX 8
Danny Castillo vs. Tim Means
Tim Means (18 - 4 - 1) replaces an injured Bobby Green and faces fellow lightweight contender, Danny Castillo (15 - 5 - 0). Before his first UFC loss to Jorge Masvidal at UFC on FOX 7, Means started his octagon career strong with victories over Bernardo Magalhaes and Justin Salas.
Castillo enters the fight coming off a recent win over Paul Sass from UFC on Fuel TV 7.
Watch for Tim Means in Chikara™ Performance Shorts during his prelim bout on FX starting at 5PM ET.
Mac Danzig vs. Melvin Guillard
Hayabusa fighters, Mac Danzig (21 - 10 - 1) and Melvin Guillard (30 - 12 - 2) enter this match-up rebounding from losses. Danzig's last win was over Efrain Escudero by unanimous decision from UFC 145. Guillard's most recent victory was during UFC 148 against Fabricio Camoes, winning by unanimous decision. Since then, Guillard has been defeated by Donald Cerrone and Jamie Varner.
Fans will see Danzig and Guillard gear up in Chikara™ Performance Shorts to battle it out for glory inside the octagon.
Germaine de Randamie vs. Julie Kedzie
MMA veteran, Julie Kedzie (16 - 11 - 0) meets prominent kickboxer, Germaine de Randamie (3 - 2 - 0) in her first UFC appearance. Fighting professionally since 2004, Kedzie holds more experience over her opponent.
De Randamie began building her fight resume in 2008 at RFC - Revolution Fight Club 2, making her way to Strikeforce to prepare for her UFC debut.
New Hayabusa fighter, Julie Kedzie sports Hayabusa Haburi™ Compression Shorts inside the octagon and kicks off the preliminary card on FX at 5PM ET.
Good luck to Team Hayabusa at UFC on FOX 8.
Follow along for updates on Twitter and Facebook:
PRELIMINARY CARD (FX, 5PM ET)
Michael Chiesa vs. Jorge Masvidal
Danny Castillo vs. Tim Means
Mac Danzig vs. Melvin Guillard
Yves Edwards vs. Spencer Fisher
Ed Herman vs. Trevor Smith
Germaine de Randamie vs. Julie Kedzie
PRELIMINARY CARD (Facebook, 4PM ET)
Aaron Riley vs. Justin Salas
John Albert vs. Yaotzin Meza