UFC on FOX 7: Preliminary Card Preview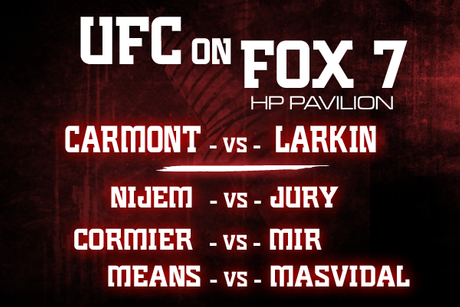 This event is made up of 12 bouts, starting the evening with prelims at 4 p.m. ET on Facebook, followed by fights on FX and concluding with a stacked main card on Fox at 8 p.m. ET.
Many of this weeks match ups feature exciting debuts into the UFC from established Strikeforce fighters. For a full breakdown of the main card fights, click here.
Preliminary Card Breakdown
Middleweight Division - Francis Carmont vs. Lorenz Larkin
Another UFC debut takes place on Saturday with former Strikeforce favourite, Lorenz Larkin (13 - 0) taking on the notable, Francis Carmont (20 - 7). Carmont is coming off nine consecutive wins, with a recent split-decision victory in UFC 154 over Tom Lawlor.
These opponents have a strong record for KO finishes, Larwin with eight and Carmont with six. Submission finishes are a different story, Carmont has taken ten wins by submission and Larkin, zero. This match plays a pivotal role in the advancement to the next phase of UFC success.
Carmont looks to win Larkin's debut while suited up in Hayabusa compression shorts and a Brotherhood t-shirt.
Lightweight Division - Ramsey Nijem vs. Myles Jury
Former Ultimate Fighter 13 contenders, Myles Jury and Ramsey Nijem face each other in an octagon reunion. The undefeated Jury stands at 11 wins and zero losses since 2005 and puts his exceptional winning streak on the line.
He is coming off an unanimous decision win from UFC 155 over Michael Johnson, which contrasts his track record for quick submission finishes.
Nijem's KO loss to Tony Ferguson in TUF 13 finale didn't deter him from starting a successful UFC career. He enters the cage Saturday off three straight wins, two by decision and one by TKO. Both possess strong grappling abilities, making this an excellent match up of fighting styles.
Come Saturday, Jury sports our Hayabusa Kaumi shorts while going toe-to-toe with Nijem.
Lightweight Division - Tim Means vs. Jorge Masvidal
In this UFC vs. Strikeforce match up, Jorge ""Gamebred" Masvidal makes his octagon debut against Tim "The Dirty Bird" Means. Means is a first-class striker, stopping 13 of his 18 wins with a KO or TKO. In his second UFC appearance, Means finished Justin Salas with a first round TKO with knees and punches.
Masvial is rebounding from a lost shot at a Strikeforce title, losing out to Saturday headliner, Gilbert Melendez with a unanimous decision. His most recent bout was from July of last year, leaving victorious with a split-decision over Justin Wilcox.
Currently 2-0 under the UFC banner, Mean's striking power will be rivalled by Masvidal's extensive muay thai experience.
Watch for Means battle it out for his third UFC victory in our Hayabusa Chikara™ Performance shorts.
Preliminary Card (con't, 5 p.m. ET)
Chad Mendes vs Darren Elkins (featherweight)
Joseph Benavidez vs Darren Uyenoyama (flyweight)
TJ Dillashaw vs Hugo Viana (bantamweight)
Facebook prelims (Facebook, 4 p.m. ET)
Anthony Njokuani vs Roger Bowling (lightweight)
Clifford Starks vs Yoel Romero (middleweight)
Watch for Hayabusa in the octagon over the weekend and all the best to our sponsored fighters at UFC on Fox 7.
Which bouts are you excited for? Tell us your predictions on