UFC on FOX 7: Main Card Preview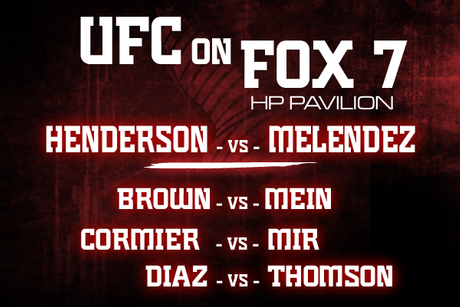 The latest UFC headlining event is a lightweight title match up between current champion, Benson Henderson and Strikeforce veteran, Gilbert Melendez.
These fighters enter the octagon April 20, 2013 at HP Pavilion in San Jose, with a UFC newcomer gunning for the champion belt.
Fight breakdown
Lightweight Title - Benson Henderson vs. Gilbert Melendez
The lightweight title is at stake as former Strikeforce champion Gilbert Melendez (21-2) makes a grand entrance into the UFC, challenging current lightweight champion, Benson Henderson (18-2). These fighters have only four career losses between them, which adds to the hype of the anticipated matchup.
Melendez's offensive fighting style will be interesting to watch while combating Henderson's wrestling and submission strength.
Welterweight - Nate Diaz vs. Josh Thomson
Josh Thomson's (19-5) return to the octagon marks his first UFC appearance in nearly a decade and is up against The Ultimate Fighter 5 winner, Nate Diaz (16-8). Both fighters are rebounding from title losses against this week's current headliners.
Henderson defeated Diaz with an unanimous decision at UFC on Fox 5, whereas Thomson lost to Melendez by split decision during a Strikeforce bout last May.
Diaz has high-level striking ability but Thomson's defensive technique is more precise. He'll look to bring the fight on the floor in order to control the bout.
Heavyweight - Daniel Cormier vs. Frank Mir
These heavyweight contenders are determined to continue their winning streaks in the co-main fight of the evening. Strikeforce's Daniel Cormier (11-0) makes his debut in the octagon against former UFC heavyweight champ, Frank Mir (16-6).
Mir is armed with superior brazilian jiu jitsu skills, while Cormier controls fights with his striking opposition. Coming off a TKO loss at UFC 146 over Dion Staring, Mir must counter the successful wins of Cormier's Strikeforce legacy.
Welterweight -
Matt Brown vs. Jordan Mein
Canadian fighter Jordan "Young Blood" Mein (27-8) is fresh off a career changing victory from his debut at UFC 158, finishing Dan Miller with a TKO in the first round. Now, a month later, Mein returns for his second appearance in the octagon as a part of Saturday's main card.
This match up originally slated Dan Hardy in Mein's place, but due to an irregular heartbeat, Hardy was forced to be removed from the card. Now, Mein sets out to defeat Matt "The Immortal" Brown (16-11), an experienced welterweight fighter in the UFC, who is coming into the fight with the confidence of four consecutive wins.
The Young Blood is known for his striking and muay thai abilities which have led to a total of 15 KO/TKO victories. Brown is a durable opponent and has used a combination of boxing, muay thai and wrestling to achieve his 9 KO/TKO wins and 7 submission finishes.
For his main card bout, Jordan Mein will suit up in Hayabusa Chikara™ Performance Shorts.
Watch for Hayabusa in the octagon over the weekend and all the best to our sponsored fighters at UFC on Fox 7.
Tell us your main card predictions on