UFC Fight Night 28: Teixeira vs. Bader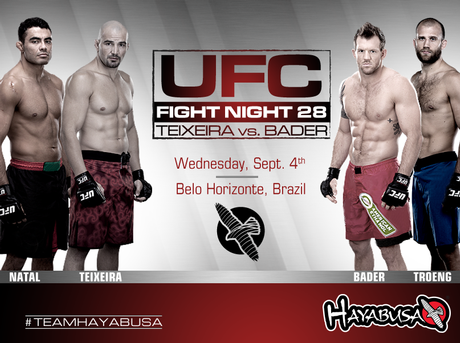 Light heavyweight contenders, Glover Teixeira (21 - 2 - 0) and Ryan Bader (15 - 3 - 0) go head-to-head this Wednesday as UFC Fight Night's main event. Both headliners are coming off strong performances from recent octagon appearances. Teixeira has remained undefeated since 2006 with four official UFC wins, twelve career knockouts and six wins via submission.
His opponent, Ryan Bader rebounded from a loss against Lyoto Machida earlier this year by submitting Vladimir Matyushenko in the first round of UFC on Fox 6. Bader has the UFC experience, but Teixeira leads with a more impressive resume.
Teixeira represents Hayabusa at UFC Fight Night 28, sporting the popular Chikara™ Performance Shorts during his main event bout on Fox Sports 1 in Brazil.
Main Card Breakdown
Yushin Okami vs. Ronaldo Souza
UFC veteran, Yushin Okami (29 - 7 - 0) takes on octagon newcomer Ronaldo Souza (18 - 3 - 0) in the evening's co-main event. Okami enters off three consecutive wins with a recent split decision victory over Hector Lombard in UFC on Fuel TV 8.
Former Strikeforce fighter, Ronaldo Souza won in his recent UFC debut against Joao Zeferino via an arm-triangle choke in the first round.
Joseph Benavidez vs. Jussier Formiga
Both of these highly ranked flyweight contenders enter the fight off recent victories and are on the path to a coveted title shot. Fans saw Benavidez (18 - 3 - 0) knockout Darren Uyenoyama at UFC on Fox 7 and Formiga (15 - 2 - 0) win via unanimous decision against Chris Cariaso back in May.
Piotr Hallmann vs. Francisco Trinaldo
Piotr Hallmann (13 - 1 - 0) makes his UFC debut riding nine consecutive wins and only one recorded loss in his professional MMA career. Fellow lightweight, Francisco Trinaldo (13 - 2 - 0) defeated Mike Rio via a arm-triangle choke in the first round earlier this year; the same technique he used to submit C.J. Keith at UFC on FX 7.
Rafael Natal vs. Tor Troeng
Hayabusa fighter, Rafael Natal (16 - 4 - 1) looks to cement his third UFC victory of 2013 against fellow middleweight, Tor Troeng (16 - 4 - 1). Just this year Natal defeated Joao Zeferino via unanimous decision and submitted Sean Spencer by arm-triangle choke in the final round of UFC on Fox 6.
Troeng had a successful UFC debut in April when he submitted Adam Cella in the first round of UFC on Fuel TV 9. With both opponents having strong Brazilian Jiu Jitsu backgrounds, either one could walk away with a submission victory.
Watch Natal take on Troeng in Hayabusa Chikara™ Performance Shorts on Wednesday at 7 p.m. ET.
Ali Bagautinov Vs. Marcos Vinicius
Kicking off the main card is a featherweight match up between two UFC newcomers. Bagautinov (10 - 2 - 0) has earned eight straight cage victories before making his first octagon appearance at UFC Fight Night 28.
Vinicius (20 - 4 - 1) rebounds from a loss to Johnny Bedford at The Ultimate Fighter 16 Finale. Before being defeated he won in his UFC debut against Wagner Campos in 2012.
Good luck to Team Hayabusa UFC Fight Night 28!
Follow along during the fights and let us know your predictions.
Preliminary Card (FOX Sports 1 - 5 p.m. ET)
Felipe Arantes vs. Edimilson Souza
Ramiro Hernandez vs. Lucas Martins
Elias Silverio vs. Joao Zeferino
Ivan Jorge vs. Keith Wisniewski
Preliminary Card (Facebook - 4:30 p.m. ET)
Sean Spencer vs. Yuri Villefort