UFC Fight Night 27 Preview: Condit vs. Kampmann II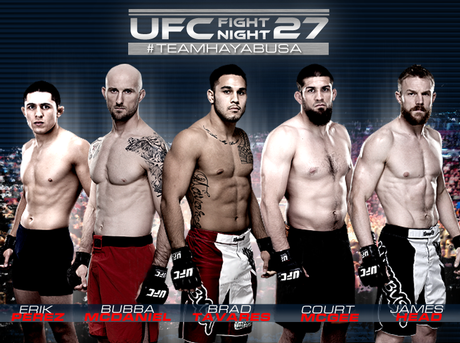 MMA fans get a double dose of UFC this week. FOX Sports 1 is holding their second fight night on Wednesday with headliners, Condit vs. Kampmann and UFC 164: Henderson vs. Pettis on Saturday.
Wednesday's main event is the highly anticipated battle between Carlos Condit (28 - 7 - 0) and Martin Kampmann (20 - 6 - 0). The two welterweights enter the octagon roughly five years after a close match from UFC Fight Night 18 where Kampmann walked away with a split decision victory.
The card also features a co-main event between Donald Cerrone and fellow lightweight contender, Rafael dos Anjos. Both fighters enter the fight with recent wins from bouts in May and are determined to continue moving up the lightweight division.
Team Hayabusa on UFC Fight Night
Bubba McDaniel vs. Brad Tavares
Hayabusa fighters, Bubba McDaniel (21 - 6 - 0) and Brad Tavares (10 - 1 - 0) face off Wednesday night in this middleweight match-up. UFC newcomer, McDaniel made his debut with a third round submission victory against Gilbert Smith at The Ultimate Fighter 17 Finale. Tavares enters with three consecutive wins and only one reported UFC loss during his career.
Most recently, Tavares left UFC on Fuel TV 8 victorious with a decision win over Riki Fukuda. Watch for both fighters during their main card bout.
McDaniel will be wearing Hayabusa Haburi™ Compression Shorts and Tavares will be wearing Hayabusa Chikara™ Performance Shorts inside the octagon.
Takeya Mizugaki vs. Erik Perez
Erik Perez (13 - 4 - 0) hopes to hold onto an undefeated UFC record during his next fight against Takeya Mizugaki (17 - 7 - 2). Perez enters the bout coming off of a three win hot streak, finishing all opponents quickly in the first round. Mizugaki also enters off strong UFC performances, with wins over Bryan Caraway and Jeff Hougland.
Perez gears up in Hayabusa Chikara™ Performance Shorts for his main card bout on Fox Sports 1.
Court McGee vs. Robert Whittaker
The Ultimate Fighter (TUF) winners, Court McGee (15 - 3 - 0) and Robert Whittaker (11 - 2 - 0) go head-to-head this week on the main card. McGee who won season 11 of TUF, went on to make a victorious UFC debut against Josh Neer at UFC 157.
Whittaker was named the welterweight winner of TUF's U.K. vs. Australian edition and also had a successful debut into the UFC last year.
Fans will see McGee in Hayabusa Chikara™ Performance Shorts for his main card fight starting at 8 p.m. ET.
James Head vs. Jason High
Jason High (16 - 4 - 0) will attempt to get his first UFC win over James Head (9 - 3 - 0) in this welterweight match-up. Head enters the bout rebounding from a TKO loss from Mike Pyle. High was recently submitted by Erick Silva in the first round of UFC on Fuel TV 10.
Head will sport Hayabusa Haburi™ Compression Shorts during his prelim fight on Fox Sports 2 at 6 p.m. ET.
Roger Bowling vs. Abel Trujillo
Kicking off the Facebook prelims is the lightweight bout between Roger Bowling and Abel Trujillo. Strikeforce veteran, Roger Bowling returns to the octagon after a KO loss in his debut to Anthony Njokuani during UFC on Fox 7.
Trujillo also starts the fight recovering from a loss to Khabib Nurmagomedov in his second UFC appearance.
Fans will see Bowling in Hayabusa Chikara™ Performance Shorts inside the octagon during this Facebook fight at 4:35 p.m. ET.
What are your UFC Fight Night 27 predictions?
Give us your thoughts on Facebook or Twitter and follow along during the fights.
Full Main Card:
Carlos Condit vs. Martin Kampmann
Donald Cerrone vs. Rafael dos Anjos
Kelvin Gastelum vs. Brian Melancon
Court McGee vs. Robert Whittaker
Takeya Mizugaki vs. Erik Perez
Bubba McDaniel vs. Brad Tavares
FOX Sports 2 Prelims:
Papy Abedi vs. Dylan Andrews
Justin Edwards vs. Brandon Thatch
Hatsu Hioki vs. Darren Elkins
James Head vs. Jason High
Facebook Prelims:
Ben Alloway vs. Zak Cummings
Roger Bowling vs. Abel Trujillo
Dustin Ortiz Vs Justin Scoggins