UFC 162 Preview: Team Hayabusa Takes Vegas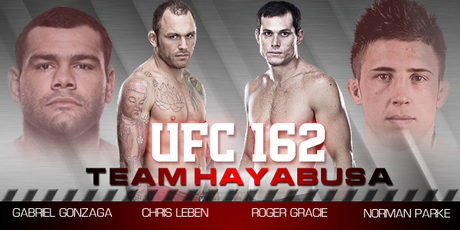 The UFC event of the summer hits Las Vegas on July 6th with Anderson Silva defending his middleweight title for the 11th straight time against the undefeated Chris Weidman. Rounding off the much anticipated main card fights are; Frankie Edgar vs. Charles Oliveira, Roger Gracie vs. Tim Kennedy, Tim Boetsch vs. Mark Munoz and Dennis Siver vs. Cub Swanson.
Team Hayabusa Breakdown
Roger Gracie vs. Tim Kennedy
Two former Strikeforce fighters, Roger Gracie (6 - 1 - 0) and Tim Kennedy (15 - 4 – 0) face off in their debuts on the UFC 162 main card. Gracie enters his first fight inside the octagon hot off two consecutive wins from recent Strikeforce bouts. Kennedy also enters off a victory but was defeated via unanimous decision by Luke Rockhold last July in a Strikeforce main event.
Watch for Roger Gracie sporting our Chikara™ Performance Shorts and making his first UFC entrance with The Brave walkout t-shirt starting at 10PM ET on PPV.
Chris Leben vs. Andrew Craig
Original The Ultimate Fighter alum, Chris Leben (22 - 9 – 0) returns to the octagon to regain a UFC victory after back-to-back losses. His opponent, Andrew Craig (8 - 1 – 0) had a strong entrance into the UFC with wins against Kyle Noke and Rafael Natal, but recently lost to Ronny Markes at UFC on FX 7 via an unanimous decision.
Leben gears up this Saturday in Chikara™ Performance Shorts and sports our Gentleman's Choice walkout t-shirt.
Norman Parke vs. Kazuki Tokudome
UFC newcomer, Norman Parke (17 - 2 - 0) had an impressive lightweight career even before he entered the octagon. Winning 16 of his last 18 professional fights put Parke in a great position to defeat Colin Fletcher via unanimous decision in his UFC debut last December.
Also new to the UFC, Kazuki Tokudome (12 - 3 – 1) enters hot off a recent unanimous decision victory to Cristiano Marcello at UFC on Fuel TV 8 in March.
Parke chose to sport Haburi™ Compression Shorts during his fight and makes his second UFC appearance in our Gentleman vs. Beast walkout t-shirt.
Gabriel Gonzaga vs. Dave Herman
The original heavyweight match-up saw Shane Del Rosario vs. Dave Herman (21 - 5 - 0) but an unspecified injury by Del Rosario opened the door for Gabriel Gonzaga (14 - 7 – 0) to fight. He steps back into the octagon to make up for his first UFC loss to Travis Browne at The Ultimate Fighter 17 Finale in April.
Herman showed promise with his TKO debut victory at UFC 131, but starts the fight coming off three consecutive losses and is in desperate need of a win.
Watch for Gonzaga sporting Chikara™ Performance Shorts and a Brotherhood walkout t-shirt during the prelim fights at 8PM ET on Sportsnet.
Good luck to Team Hayabusa at UFC 162!
Team Hayabusa at the UFC Fan Expo
Welterweight Champion, Georges St-Pierre and UFC Hall of Famer, Forrest Griffin will be present at the Hayabusa booth for a fan meet and greet at the 2013 UFC Fan Expo! Follow all the expo action on Twitter with #HayabusaBooth on July 5th and 6th before the big UFC 162 showdown at the Mandalay Bay Hotel.