UFC 159 Breakdown: Preliminary Card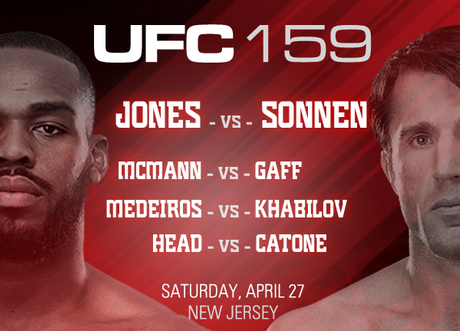 The anticipated battle for the UFC light heavyweight title is coming to a grand conclusion at UFC 159, where current champ Jon "Bones" Jones defends his belt against the overly confident Chael Sonnen. The night also matches Michael Bisping and Alan Belcher, headlining the middleweight co-main event; both fighters need a victory after a loss in their last UFC bout.
The action takes place this Saturday at the Prudential Center in Newark, New Jersey, with bouts on pay-per-view, FX and Facebook.
A look at the Hayabusa team
Sara McMann vs. Sheila Gaff - Bantamweight
The third women's bantamweight matchup in UFC history takes place with both Sara McMann (6-0) and Sheila Gaff (10-4-1) making their debut in this weekend's UFC 159 undercard. McMann, a former Olympian wrestler, has yet to lose in her professional MMA career.
Her opponent, Sheila "The German Tank" Gaff, is coming off three consecutive wins - all by impressive first round knockouts. Gaff delivers powerful strikes whereas McMann's advantage lies in her strong wrestling background.
McMann will sport Hayabusa Haburi compression shorts during her first official fight in the UFC. Watch her match-up on FX's preliminary card.
Rustam Khabilov vs. Yancy Medeiros - Lightweight
Russian newcomer, Rustam "Tiger" Khabilov (15-1) looks to win his second UFC fight, whereas Strikeforce's Yancy "Frisson" Medeiros (9-0) attempts to leave his UFC debut victorious. Khabilov enters the fight hot off four consecutive wins, including a first round KO to Vinc Pichel in The Ultimate Fighter 16 finale.
Medeiros' sharp finishing style goes head-to-head with Khabilov's superior grappling talents, after a three year fight hiatus.
Watch for Khabilov in the octagon as he'll be wearing Hayabusa Chikara shorts.
Nick Catone vs. James Head – Welterweight
The Facebook portion of UFC 159 pairs Nick "The Jersey Devil" Catone (9-4) and muay thai fighter, James Head (9-3). Head's wins consist of four knockouts and three by submission, while Catone enters the fight with three KO wins and three submissions.
Head will be walking to the octagon geared with a Hayabusa Brotherhood T-Shirt and Chikara fight shorts.
What are you UFC 159 predictions?
Share your thoughts with us on Facebook or Twitter #UFC159
Full Main Card (PPV)
Jon Jones vs. Chael Sonnen
Michael Bisping vs. Alan Belcher
Roy Nelson vs. Cheick Kongo
Phil Davis vs. Vinny Magalhaes
Jim Miller vs. Pat Healy
Full Preliminary Card (FX)
Bryan Caraway vs. Johnny Bedford
Gian Villante vs. Ovince St. Preux
Sara McMann vs. Sheila Gaff
Rustam Khabilov vs. Yancy Medeiros
Facebook Prelims (Live Stream)
Nick Catone vs. James Head
Steven Siler vs. Kurt Holobaugh
Leonard Garcia vs. Cody McKenzie