UFC 154 St-Pierre Vs Condit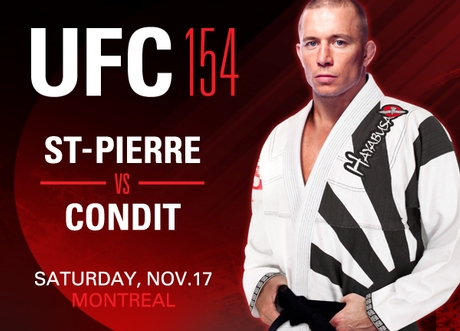 The most anticipated fight of 2012 will be one for the ages! MMA fans around the world will soon have their questions answered: Is Georges "Rush" St-Pierre, the most popular fighter in MMA today, truly ready to come back and dominate the circuit as only he can do? One thing's for sure, GSP has prepared for this fight with all the intensity, intelligence, discipline and knowledge we've come to expect from this generation's greatest welterweight champion. Sources from the GSP camp confirm it – the knee is not only healed, but stronger than ever. And GSP's cardio and stamina have improved significantly, if you can believe it! What's more, the time off from the ring has allowed Georges to further refine his already world-class wrestling and striking abilities. To put it lightly, fans are in for a treat! All signs point to this being GSP's greatest fighting shape to date. Watch for Georges as he walks to the octagon on Saturday night in his personally designed Georges St-Pierre Rising Sun Signature Series Gi. This one-of-a-kind gi is sure to turn heads!
Despite the favor being ascribed the returning champion, one man stands in GSP's way of uniting the welterweight championship around his waist: interim champion Carlos "The Natural Born Killer" Condit. Carlos fought a heroic battle against Nick Diaz to take his spot atop the division, and he's far from ready to give it up now. A strong submission artist whose striking abilities have lit up the division as of late, Carlos has had a taste of the top and he's ready for his greatest challenge to date. The question on everyone's mind: Can he truly withstand a re-invented and stronger-than-ever GSP?
For all fans of MMA, casual to fervent, this is the ONE fight you can't afford to miss! History will be made on Saturday night. Witness it for yourself and see the two greatest welterweight champions today go toe-to-toe for the highest prize in the sport!
Also, fans will want to tune-in to the fight between Francis 'Limitless' Carmont and Tom "Filthy" Lawlor. Francis is being touted as one of the most explosive strikers in the middleweight division. Like GSP, Francis trains in Montreal at world-famous Tristar gym. In recent months, coaches at Tristar have helped Carmont hone an overall arsenal to complement his devastating striking abilities, making him even more unpredictable to would-be opponents. Francis 'Limitless' Carmont will be walking out in the new Gentlemen's Choice t-shirt from Hayabusa, and will be fighting in the Haburi Compression shorts. Francis will be looking to cement his position as a potential title contender with a big, decisive win on fight night!

Hayabusa would also like to wish Patrick "the Predator" Cote, Ivan Menjivar, John Makdessi and Antonio Carvalho the best of luck in their upcoming bouts. Each of these decorated warriors has chosen to compete in Hayabusa fight shorts. Hayabusa is looking forward to a great night of fights and we wish the fighters the very best!