UFC 153: Silva vs. Bonnar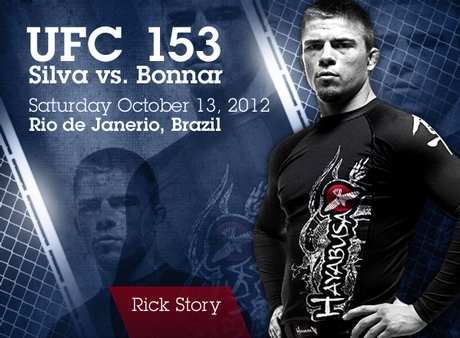 UFC 153: Silva vs. Bonnar

Rick 'The Horror' Story has started a new chapter in his MMA career. 'The Horror' realised that he was not prepared for the intense pressure of being in the spotlight as the co-main event and has refocused and matured. After back to back losses, Story rebounded with a unanimous decision victory over Brock Jardine. At UFC 153, Rick enters hostile territory and takes on Brazilian native, and submission master, Demian Maia. Story, a collegiate wrestler, will need to utilize this strength to keep out of the clutches of Maia. 'The Horror' has powerful punches, and elbows, but it is his conditioning that sets him apart. Story has the ability to go full speed for the entire fight and is relentless in his attack. Always pushing forward, Story will look to overwhelm Maia with constant pressure. Rick has never been submitted or knocked out in his career and, though his last five fights have gone the distance, Story is always looking for the finish. Maia has only been finished once, by TKO, in his career and will be a tough opponent. Story is refocused, rededicated and ready to take on all challengers. Hayabusa is proud of the ongoing partnership with Rick 'The Horror' Story and expects another great fight.

Gleison Tibau is a very experienced fighter. With over 40 professional fights in a couple of different weight classes, Tibau carries himself with a calm and commanding demeanor. Tibau has settled comfortably in the lightweight division and is one of the biggest 155 lb. fighters in the UFC. Gleison is excited to be fighting in Brazil for the first time since 2007 and he takes on fellow countryman Francisco 'Massaranduba' Trinaldo. Trinaldo is a powerful striker and is currently riding a 5 fight win streak. Tibau, though willing to stand and trade with anyone, will be looking to drag Francisco to the mat and lock in a fight finishing submission. Gleison has more fights in the UFC than Trinaldo has in his entire professional career. This experience, combined with the desire to get back to his winning ways, will ensure that Tibau is more focused and prepared than ever. Hayabusa is excited to see Gleison Tibau in action again and is looking forward to another great performance.

Hayabusa would also like to wish exciting middleweight prospect Chris Camozzi and TUF 14 winner Diego 'Ceara' Brandao the best of luck in their respective fights. Both these amazing fighters choose to train and compete in Hayabusa.