UFC 152 Jones vs. Belfort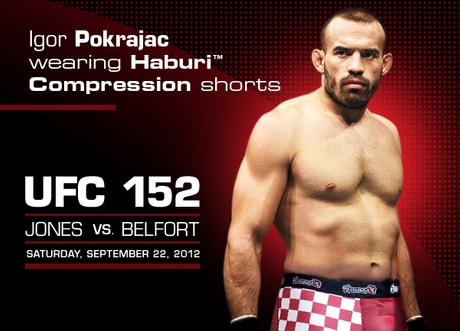 UFC 152: Jones vs. Belfort
Toronto, Ontario, Saturday September 22, 2012

Currently riding a three fight win streak, Igor Pokrajac is ready to once again step inside the Octagon. Pokrajac, a former wrestling trainer for Mirco Cro Cop, will need to use his wrestling skills to keep the fight on the feet against his next opponent. At UFC 152, Igor is set to take on one of the best BJJ fighters in the world, Vinny Magalhaes. Vinny, a former TUF competitor, has been tearing his way through other organizations, collecting titles on the way, but is now back in the UFC and is hungry to make a huge impression in the UFC. Igor is one of the best strikers in the Light Heavyweight division and, with a training partner like Cro Cop, possesses some devastating kicks and punches. Igor Pokrajac will once again be wearing the Haburi™ Compression shorts and will proudly sport the Croatian colors. Hayabusa is excited to once again partner with Igor and is expecting another great fight.

Evan Dunham is one of the hardest working, most determined fighters in the UFC. Each and every fight, he brings heart, determination and an overwhelming desire to win. Dunham has only lost twice in his professional career. The first coming at the hands of Melvin Guillard, one of the most devastating strikers, and the second to Sean Sherk, though many thought Evan won this fight. Since these back to back losses, Evan has rebounded and won his last two in a row. His next opponent is TJ Grant. Grant is undefeated, 2-0, since dropping to lightweight but Dunham has other plans for TJ. Both fighters have great ground games and underrated striking and it should be a great fight. Dunham will look to dictate the pace and not let Grant push him around the cage. Hayabusa is proud to partner with Evan Dunham and looks forward to another great fight.

Jimmy 'The Kid' Hettes is one of those rare breed of fighters who instinctively know where and how to finish a fighter. At 25 years of age, he is one of the younger fighters in the featherweight division, but he is a finisher. Hettes is 10-0 and has finished all, but one of these fights by submission. Not only has he finished these fights by submission, but he has made people tap in a variety of ways. 'The Kid' has finished bouts by triangle choke (2), rear naked choke (4), guillotine choke (1), heel hook (1), and armbar (1). Agile, athletic and supremely conditioned, Jimmy 'The Kid' Hettes is someone to watch out for. Hayabusa is excited to partner with Hettes and expects great things from 'The Kid'.

Hayabusa would also like to wish Lance Benoist, Mitch Gagnon, and Kyle Noke the best of luck in their upcoming bouts. Each of these warriors chooses to train and compete in Hayabusa. Hayabusa expects a great showing at UFC 152 and is proud to partner with these amazing fighters.