UFC 139 Shogun vs Henderson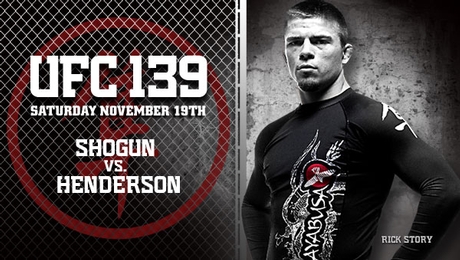 Rick Story is excited to get back into the Octagon and return to his winning ways. His six fight win streak was broken as he agreed to a second fight less than a month removed from his amazing victory over Thiago Alves. Rick has had a few months since his loss to Charlie Brenneman to work on his overall game and to mentally prepare himself for competition. Across the cage will be Martin Kampmann, a competitor who possesses a dynamic combination of striking and grappling. Rick "The Horror" Story has an incredible wrestling base and combines his takedowns with vicious ground and pound, the ability to nullify submissions with a great scramble and an underrated submission game. Story is always ready for any challenge and brings a solid game, a no quit attitude and a passion for competition to every fight. Hayabusa is proud that Rick "The Horror" Story, again, chooses to train and compete in Hayabusa.

If you are in the Vancouver, Washington area make sure to check out Inferno Fitness & Sports /Brave Legion 14010 NE 3 Court Vancouver, WA 98685; The home of Rick "The Horror" Story.

Matt "The Immortal" Brown wants to continue on his winning path in the UFC. Most recently, against John Howard, he broke a three fight losing streak and finally got his first win in the UFC. Brown's next opponent, Seth Baczynski, is one of the bigger welterweights in the UFC and brings a solid, well rounded game. The trait that sets Matt apart is his tenacity and willingness to engage, at full speed, for the entire fight. Matt Brown embodies the "never say die" attitude and will constantly try to finish the fight, right until the final bell. This willingness to engage is the reason that only three of his 20+ fights have ever gone the distance. Matt Brown incorporates the essence of "The Spirit of the Fighter" and Hayabusa is proud to partner with "The Immortal" and wishes Matt the best of luck in him upcoming fight.

Gleison Tibau has had a very good year thus far and would like to make it 3 wins in a row before 2011 ends. Both wins this year have been hard fought three round decisions and Gleison would like to end 2011 with a decisive finish. Tibau has a hard fight ahead as his opponent, Rafael Dos Anjos, is looking for another win as well. These two great fighters have amazing BJJ and this fight has the makings of a grappling and submission battle. Many times the deciding factor in these battles is the stand-up game. Gleison, a Brazilian born fighter, now trains with American Top Team in Florida and is constantly evolving his striking skills to become a complete fighter. Tibau, who used to fight at 170lbs, is a big lightweight and will use his size and skill to push the pace and smother the attack of Dos Anjos. Gleison Tibau is proud to train and compete in Hayabusa. Hayabusa is excited to partner with Gleison in this pivotal lightweight showdown.