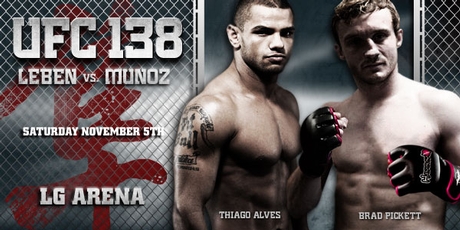 Brad Pickett is one of the bantamweight divisions more dynamic fighters. Pickett hails from East London, England, but now trains with American Top Team in Florida. Brad returns home to England to take on Renan Barao in what could be a potential fight of the night winner. These two warriors have over 50 combined fights, so experience will not be much of a factor. Pickett has fast, accurate hands and will look to keep Barao, a submission ace, off balance and on the feet. Brad "One Punch" Pickett has very technical striking and the power to end fights quickly. Pickett is known for his flashy entrance and in front of a hometown crowd he hopes to put on the performance of a lifetime. Pickett has held championship titles in other organizations so nerves will not be a factor. "One Punch" will look to set a hard, fast pace and will try to systematically break down Barao. Though Brad has more submission wins than (T)KO victories, he will definitely want to keep this on the feet, as his opponent has a vastly superior submission game. Pickett is confident he can break the 26 fight win streak of Renan and take home a victory. This is going to be an amazing fight and Hayabusa is proud Brad "One Punch" Pickett chooses to fight in the Chikara™ Performance Shorts. Hayabusa wishes Brad the best of luck in his upcoming fight.
Thiago Alves is one of the most prolific strikers in MMA. His leg kicks are devastating and he combines these with knees, elbows and punches. "Pitbull" is built like a tank and he is tough as nails. Alves can take a lot of punishment, but is even better at dishing it out. He has 11 knock outs to his credit and is known for his aggressive attitude and in your face style of fighting. Hoping to rebound from his recent loss to Rick Story, Thiago will look to set the pace early and put on a striking clinic. His opponent, Papy Abedi, is a strong striker, but has amazing takedowns. Alves will look to use his ever improving takedown defence to keep this fight on the feet and hand Abedi his first loss in MMA. Thiago has climbed to the top, fought the champion for 5 rounds, lost a unanimous decision to GSP (regarded as one of the top P4P fighters in the world) and looks to make it to the top again. "Pitbull" is a fitting nickname for Alves, as he is tenacious, determined, aggressive, and has that killer instinct that sets elite level strikers apart. Thiago is focused on the path ahead and will look to destroy anyone who stands in his way. Alves has had trouble making weight before, but with his new diet and conditioning in place he looks to make a fresh start towards the ultimate goal of UFC gold. Thiago "Pitbull" Alves chooses to compete in Hayabusa Chikara™ Performance Shorts. Hayabusa is rooting for Thiago as he starts the climb back to the top.
Jason "Shotgun" Young is another British fighter who is looking to take his career to the next level. Young is fighting in his home country against judo standout Michihiro Omigawa. Jason is a talented striker and will definitely want to stay out of the grasp of Omigawa. "Shotgun" will be looking to use his great footwork and technique to keep Michihiro from closing the distance and getting a grip on him. All but one of Young's losses is by submission, so Jason has been working on diligently on his ground game. Even though his ground game has been improving dramatically, Young will definitely want to keep this fight on the feet where he is most dangerous. "Shotgun" will look to pull the trigger early and keep Omigawa from closing the distance and dragging him to the ground. Young, coming off a unanimous decision loss at UFC 131, is excited to get back into the Octagon and expects to come out victorious. Hayabusa is proud to partner with Jason Young and we all expect great things from "Shotgun".
Chris Cope is one of the most likeable fighters in the UFC. A big underdog on The Ultimate Fighter: Team Lesnar vs. Team dos Santos, Cope overcame the odds and made it to the semi-finals where he eventually lost to Ramsey Nijem. Chris made his UFC début against fellow Team Lesnar member Chuck O'Neil. He was the underdog against O'Neil, but ended up winning via unanimous decision. Cope, a self-confessed "gym rat", still holds down a full time job in a law firm and dreams of being a full time fighter and a lawyer at the same time. Cope has great kickboxing skills and loves to mix things up with punches, kicks, knees and elbows. Chris is ecstatic to welcome another dynamic striker, Che Mills, to the Octagon. Cope will need thick skin as Che Mills, who hails from Gloucester England, will definitely have the hometown crowd cheering him on. Chris's determination, toughness and overall mindset make him a tough fight for anyone and a favorite of fans the world over. Hayabusa welcomes the opportunity to work with Chris "C-Murder" Cope and we know he will perform above and beyond all expectations.
Edward Faaloloto is one of the newest fighters in the UFC's lightweight division and is looking for his first win in the Octagon. Edward has been training for this fight with one of the most talked about fighters in the history of the UFC, Chris Leben. Faaloloto is excited to be fighting on the same card as mentor. This former naval officer is looking to end his two fight losing streak, but has a hard challenge ahead of him in the form of British fighter Terry Etim. Etim is a very well rounded fighter, so Edward will have to use all the experience Leben can provide against his toughest opponent to date. Hayabusa is proud to, once again, partner with this future star and wishes Edward Faaloloto success in his upcoming bout.