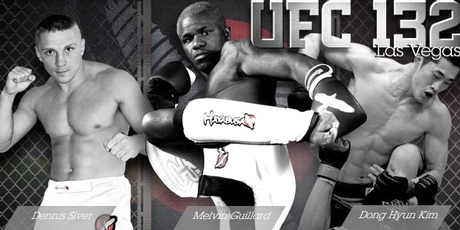 Melvin Guillard is one of the most dynamic fighters in the UFC. This lightweight stand out is riding a four fight win streak and is looking to make it five in a row. His opponent, Shane Roller, wants to put a stop to this streak, but that is easier said than done. The "Young Assassin" is one of the fastest strikers in MMA. Melvin embodies the well-known phrase, "He's so quick, he's sudden!" When the bell rings, do not blink. Guillard has ended two of his last three fights in the first round. Melvin's ability to survive was demonstrated during hurricane Katrina, where he was trapped on a bridge for three days before being rescued. Guillard takes this survivor mentality to the Octagon where he fights every fight like it was his last. Win, lose or draw Melvin gives his heart and soul every time the cage door closes. He now calls Greg Jackson's Academy home and is training with some of the toughest fighters around. It was once said his ground game was suspect, but this former college wrestler trains all aspects of fighting to fine tune his ever improving skill set. The best fighters always wear the best gear. Melvin will be wearing the Hayabusa Pro Competition Shiai Fight Shorts. The side split seams allows Melvin to unleash his deadly arsenal of kicks and knees on any opponent daring enough to step into the Octagon with him. Hayabusa proudly supports Melvin "The Young Assassin" Guillard in his upcoming fight.
Coming off one of the greatest performances of his career, Dennis Siver proved he is more than a kickboxer. When he fought George Sotiropoulos many expected Siver to be dragged to the ground and submitted, but Dennis had other plans. Displaying a great ground defence, Dennis battled his way to his feet and destroyed George in the stand up. Siver, who was not expected to win, stunned the crowd with a one sided drubbing of Sotiropoulos. Dennis brings a three fight win streak into the octagon against his next opponent, Matt Wiman. "Handsome" Matt Wiman is looking to put a stop to Siver at UFC 132. Dennis will be up for the challenge as he steps into the Octagon wearing the Hayabusa Pro Competition Shiai Fight shorts. These shorts are perfect for the sprawling and brawling that Siver will need to employ to avoid the submissions of Matt Wiman. Hayabusa wishes Dennis Siver the best of luck in his upcoming fight.
Dong Hyun Kim is one of the rising stars in the welterweight division. The "Stun Gun" takes his undefeated record into UFC 132 against his toughest challenge to date. Kim, a South Korean fighter, has made a name for himself in North America with some exciting fights. This world class Judoka will need all his skills against Carlos Condit. "The Natural Born Killer" will be Kim's toughest opponent to date. With a win over Condit, the last WEC champion, Dong Hyun Kim will prove he is ready to take on the next level of competition. Kim will be able to grapple in confidence wearing the Hayabusa Pro Competition Shiai Fight Shorts. The Pro Performance stretch panel and split side seams will allow "Stun Gun" the full range of motion needed in his fight. A Hayabusa T Shirt will complete the package. Hayabusa is a proud supporter of Dong Hyun Kim and wishes him the best in his fight.