UFC 130 Rampage vs Hamill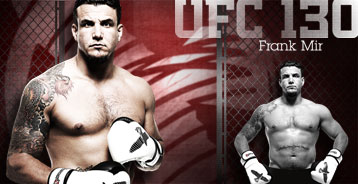 Frank Mir is one of the most recognized names in the UFC. The former heavyweight champion is looking to get back in the title hunt. With his wins over Mirko Crocop and Cheick Kongo, Mir has shown that he has the power to back up one of the most dangerous ground games in the UFC. This dominant fighter looks to keep on the winning track, as he faces Roy Nelson; the former training partners turned opponents. Watch this pivotal match up as Hayabusa sponsored Frank Mir tries to climb the ladder to recapture what he considers his; The UFC Heavyweight Championship.
As one of the younger fighters in the UFC, Stefan Struve has to prove himself each and every time he steps into the cage. At a staggering 6'11" this amazing kick boxer has shown that he can give as good as he gets. Stefan, wearing the Hayabusa Pro Competition Shiai™ fight shorts, knows that there will be no restricted movement and he can let his punches and kicks fly. Stefan Struve is one of the most promising fighters to step into the Octagon in recent years and with a win over Travis Browne, he will start the climb to the top.
Miguel Torres is one of the most talked about fighters in MMA. As the WEC Bantamweight Champion, Torres has some of the greatest fights in the promotions history. Looking to regain the momentum, and deter the recent detractors, Miguel has changed training camps and now looks to become a more complete fighter. With a win over Demetrious Johnson, Torres will start the long climb back to the top. Will Hayabusa sponsored Torres be able to catch "Mighty Mouse" in his trap? Do not blink as these bantamweight fighters are some of the fastest, most talented, Octagon warriors.

Riding a five fight win streak, Rick Story wants to take the next step up in competition, but standing in his way is Thiago Alves. Alves, a former title challenger, is exactly the fight that Story needs to begin the long journey to the top of the welterweight division. The "Horror" Story is far from over. Watch Rick write the next chapter in his career wearing Hayabusa Pro Competition Shiai™ fight shorts.