The Ultimate Fighter (TUF) 17 Finale Breakdown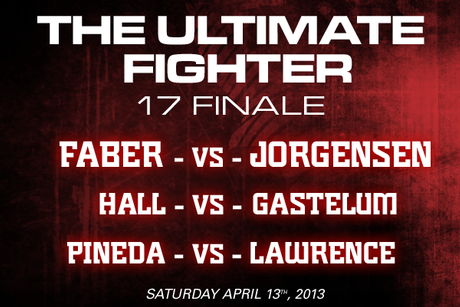 This season of The Ultimate Fighter (TUF) wraps up with grand finale
This Saturday in Nevada bantamweight rivals, Urijah Faber (27 - 6 - 0) and Scott Jorgensen (14 - 6 - 0 ) face off in the main event for the evening on FX.
These main card contenders will fight for a chance to move closer to a coveted UFC title bout. Faber is predicted to dominate in the octagon, unless Jorgensen's aggressive wrestling skills can over power his opponent's submission attempts.
There's a lot on the line this Saturday for Uriah Hall (7-2-0) and Kelvin Gastelum (5-0-0). These fighters compete to become the next winner of TUF, land an official UFC contract and coach the next season of the Ultimate Fighter show. With his dynamic style and striking power, Hall has been the contestant to beat all season.
Another exciting bout in the finale, is Justin "The American Kid" Lawrence going up against Daniel "The Pitt" Pineda. Both challengers will step into the octagon for a featherweight match. With a lot to gain and lose, it's going to be a great fight. A victory for Lawrence would mean a step up in his professional MMA career at only 22 years-old.
Deeper look... Lawrence vs. Pineda
Lawrence began training at six out of his father's gym in the St. Louis, Missouri area and at nineteen was already named six-time national kickboxing champion. With an extensive kickboxing background, he quickly established himself as a confident striker during his stint on season 15 of TUF.
Lawrence's first official UFC win came during his debut in June of last year with a third round leg KO against fellow TUF 15 cast member, John Cofer. Including all MMA matches in his short, but exciting career, Lawrence showcases a record of 4 wins and only 1 loss.
Watch out for "The American Kid" bout on Facebook, suited up in Hayabusa Chikara fight shorts.
Pineda has considerably more mainstream MMA experience, with 5 years over Lawrence, 17 recorded wins and 9 overall losses. The majority of Pineda's wins were finished by quick submissions, which made him a featherweight division must-see.
Pineda will attempt to bring the fight to the ground and use his jiu jitsu training to gain control; however, Lawrence's impressive stand-up game will be the deciding factor into how this bout plays out. The precise striking technique of Lawrence has proved to be successful during the course of TUF and will be a great challenge for Pineda to overcome this weekend.
Main card (FX at 9 p.m. ET)
Urijah Faber vs. Scott Jorgensen
Uriah Hall vs. Kelvin Gastelum
Miesha Tate vs. Cat Zingano
Travis Browne vs. Gabriel Gonzaga
Bubba McDaniel vs. Gilbert Smith
Undercard (FUEL at 7 p.m. ET)
Josh Samman vs. Kevin Casey
Luke Barnatt vs. Collin Hart
Dylan Andrews vs. Jimmy Quinlan
Clint Hester vs. Bristol Marunde
Undercard (Facebook at 5:30 p.m. ET)
Cole Miller vs. Bart Palaszewski
Sam Sicilia vs. Maximo Blanco
Justin Lawrence vs. Daniel Pineda
Catch most of action for free with prelim bouts on Facebook and FX starting at 5:30PM ET. Which one are you excited for?