The UFC on Fuel TV 9 Breakdown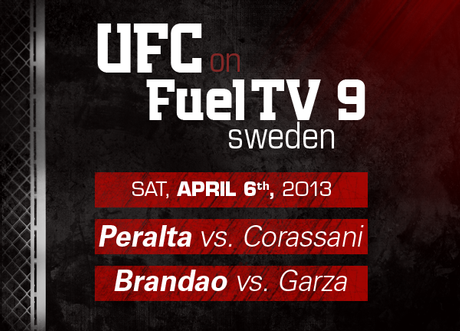 Look out UFC fans, April has some strong match ups on the way.
First up, UFC on Fuel TV 9, Sweden is the backdrop for the much anticipated featherweight showdown between Robbie "Problems" Peralta (16 - 3 – 0) and Akira Corassani (10 - 3 – 0). Also on the docket is The Ultimate Fighter (TUF) season 14 winner, Diego "Ceara" Brandao (16 - 8 – 0) battling against Pablo "The Scarecrow" Garza (12 - 3 - 0).
Deeper look...Peralta vs. Corassani
Peralta has been on a consistent hot streak since 2009 and seems to have no problems finishing bouts with a clean cut knockout. Remember back in September when he had a KO over Jason Young in the first 23 seconds? We sure do.
To say the least, we are pumped to see how Saturday night will play out.
This matchup was meant to be settled at UFC 156 but ultimately plans fell through. Now is the time for these two fighters to enter the octagon and settle the score once and for all. We'll be seeing The Peralta vs. Corasani bout after the prelims on Facebook. Come fight night, Peralta will suit up in our Chikara™ Performance Shorts and walk out in a Brotherhood T.
Deeper look...Brandao vs. Garza
Both fighters are coming off unanimous decision victories and looking to further move up the UFC latter; only thing in their way is each other. Brandao has a knack for handing out KO's with five stoppage wins under his belt thus far and enters the bout as a commanding favourite.
Will this fight bring that KO number up to six? Find out on Saturday.
Brandao is getting suited up as well, Hayabusa style. Determined to continue his winning streak, "Ceara" is sporting our Hayabusa Haburi™ compression shorts to ensure top performance during his bout against Garza.
These fights lead up to the main event between Sweden native, Alexander Gustafsson and Gegard Mousasi, who happens to be in his UFC debut. With conflicting reports on Gustafsson's ability to fight after a recent training injury, let's hope it doesn't interfere with the weekend. If he isn't cleared to fight, the UFC will need a solid plan b to maintain the level of excitement surrounding this high profile bout.
Full Fight Card: (on Fuel TV):
Alexander Gustafsson vs. Gegard Mousasi
Ross Pearson vs. Ryan Couture
Matt Mitrione vs. Phil DeFries
Brad Pickett vs. Mike Easton
Diego Brandao vs. Pablo Garza
Akira Corrasani vs. Robbie Peralta
Preliminary Bouts (on Facebook):
Reza Madadi vs. Michael Johnson
Tor Troeng vs. Adam Cella
Chris Spang vs. Adlan Amagov
Marcus Brimage vs. Conor McGregor
Benny Alloway vs. Ryan LaFlare
Michael Kuiper vs. Tom Lawlor
Papy Abedi vs. Basem Yousef
Shout out to Peralta and Brandao! The Hayabusa crew is rooting for you guys.
What are your predictions? Share with us on
More on our sponsor updates on UFC ON FOX 7 and UFC 159 in New Jersey later this month.