Hayabusa Dominates the UFC Fan Expo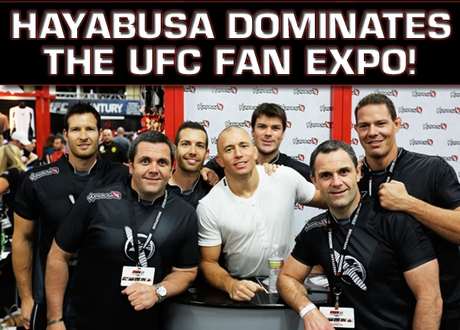 Hayabusa would like to thank everyone for making the Fan Expo weekend a memorable one.

July 6th and 7th will go down in the books as one of the most amazing weekends in the history of the UFC expos and Hayabusa was front and center.

The crowds were astounding and the pace was frenetic. Everyone was clamouring to see the newest unveilings from Hayabusa, the tokushu™ series of equipment. People flocked to Hayabusa's amazing booth for the great deals, the world's coolest striking meter, the hottest technical apparel and Hayabusa's world famous sponsored athletes. All these items together garnered Hayabusa the "Most Interactive Booth" award. GSP had the crowd buzzing and people waited hours to get an autograph from 'Rush'. Each morning when the event doors opened the Hayabusa booth went...
From This:
To This!
Hayabusa would like to thank everyone who came to the booth, we had a blast meeting all the fans and hope you had as much fun as we did.