For Your Consideration at the World MMA Awards by Fighters Only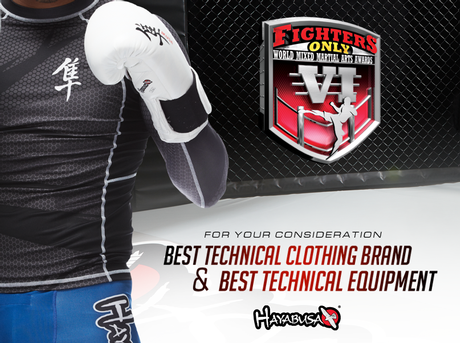 Vote for Hayabusa at the Sixth Annual World MMA Awards by Fighters Only.
Hayabusa is honored to have earned nominations in two categories from the Sixth Annual World MMA Awards presented by Fighters Only, for Best Technical Equipment and Best Technical Clothing. Each year, Fighters Only selects nominees with help from industry-leading publication's team of international editors, handpicked fighters and industry insiders.
The awards show celebrates MMA excellence worldwide on Friday, February 7th at The Venetian in Las Vegas.
Here's a look at some votes from Team Hayabusa for the World MMA Awards 2014;
Charles 'Mask' Lewis Fighter of the Year
Cain Velasquez
Why?: The reigning champion had an incredible 2013 inside the octagon. He defended his heavyweight title twice, defeating both Antonio Silva and Junior dos Santos via TKO.
Knockout Of The Year
Chris Weidman (vs. Anderson Silva, UFC 162)
Why?: Weidman became the first fighter in UFC history to knockout Silva and take the belt from the long-running champion.
Comeback Of The Year
Robbie Lawler
Why?: He returned to the UFC after an inconsistent run in Strikeforce, only to win three consecutive bouts and earned himself a title shot against Johny Hendricks after an impressive win over Rory MacDonald.
Fight of the Year
Gilbert Melendez vs. Diego Sanchez (UFC 166)
Why?: These warriors gave MMA fans exactly what they wanted at UFC 166, an intense lightweight throw down. The brawl ultimately went to decision, with judges giving Gilbert Melendez the unanimous victory but both fighters left a winner.
NOMINATED: Best Technical Clothing Brand

Judge us on our technical clothing lines: Metaru 47™ Rashguards, Fight Short Collection, Compression Series and Performance Apparel.
NOMINATED: Best Technical Equipment
Think we're the best in technical equipment as well? Let our MMA equipment speak for itself: Mirai™, Tokushu™, Kanpeki Elite™, Ikusa™ and Pro Training Series.
Cast your MMA votes now before February 7th! - Click here