UFC on FX 8: Main Card Preview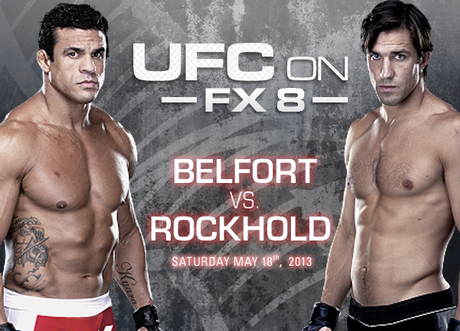 After a full UFC event roster in April, fans are thrilled for this Saturday's UFC on FX 8. The main card is stacked with anticipated match-ups and long awaited UFC debuts.
For the main event, Brazil's Vitor Belfort faces Strikeforce veteran, Luke Rockhold in the Arena Jaragua in Jaragua, Santa Catarina, Brazil.
Breakdown of main card bouts
Vitor Belfort vs. Luke Rockhold
Luke Rockhold (10 – 1) makes his UFC debut with an undefeated career in Strikeforce since 2008. Eight out of ten victories were taken in the first round, majority by submissions. He will utilize his kickboxing, Brazilian Jiu-Jitsu, and wrestling skills to try to claim his first UFC victory. Winning this match-up would ultimately equate to a fast track title shot.
Once the UFC middleweight champion, Vitor Belfort (22-10) was defeated in the past 3 years by both middleweight and light heavyweight champions, Anderson Silva and Jon Jones. He enters this match-up hot off an impressive second round TKO against Michael Bisping.
Watch for Rockhold to walk to the octagon wearing a Hayabusa Olympus T-shirt and Hayabusa Haburi™ Compression shorts.
Chris Camozzi vs. Ronaldo Souza
The scheduled middleweight match-up was originally between Ronaldo Souza and Costa Philippou. However, due to a Philippou injury, Chris Camozzi stepped in to take his place. Now, Camozzi and Souza, face off inside the octagon for the co-main event of the evening.
Souza also makes his UFC debut after leaving Strikeforce with seventeen wins and three losses. He has become known for his wrestling and grappling skills, with thirteen of his victories taken by submission. Camozzi is coming off a four bout winning streak, with a total of nineteen wins and five losses.
Rafael dos Anjos vs. Evan Dunham
Two talented fighters go head-to-head in this lightweight match-up between Evan Dunham (14 – 3) and Rafael dos Anjos (18 – 6). Dunham's versatile fighting style allows him to be effective on the ground as well as with his striking. He enters the fight with a recent win over Gleison Tibau.
Dos Anjos comes into the fight with three consecutive wins after a split decision loss to Gleison Tibau. Dunham had defeated Tibau in UFC 156 back in February.
Dunham will sport Hayabusa Kasumi-S shorts during his Saturday bout.
Rafael Natal vs. Joao Zeferino
Following the Chris Camozzi vs. Ronaldo Souza change up, Rafael Natal (15 – 4) was then paired with UFC newcomer, Joao Zeferino (13 - 4). Natal enters the octagon with a recent submission victory against Sean Spencer in the third round of UFC on FOX 6.
Zeferino makes his UFC debut on short notice, but is on a seven bout winning streak from other MMA organizations. These Brazilian middleweights kick off the main card bouts of the night with Natal wearing Hayabusa Chikara shorts during the fight.
The main card action starts at 9:00 PM E.T. this Saturday, with prelim fights beginning on Facebook at 4:30PM and 6:00 PM on FUEL TV.
Follow along with us on Facebook and Twitter during UFC on FX 8. We'll be giving fans a chance to win an Olympus T-shirt and pair of Hayabusa Kasumi-S fight shorts!