UFC on Fuel TV Gustafsson vs Silva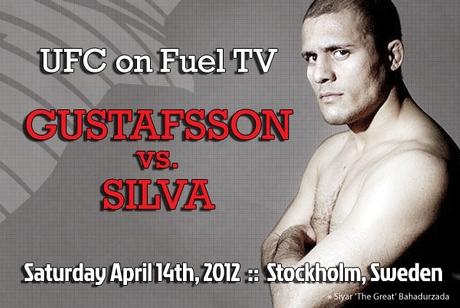 STOCKHOLM, SWEDEN: GUSTAFSSON vs. SILVA
Siyar 'The Great' Bahadurzada makes his UFC debut against a very tough opponent; Paulo Thiago. Siyar, riding a 6 fight win streak, is ready to make the leap up in competition and brings willpower, determination and one-punch knockout power to each and every fight. Bahadurzada, a native of Afghanistan, moved to the Netherlands when he was 15 and that is where he began training. A professional since 2002, Siyar has 10 wins by KO and 6 by submission and is comfortable where ever the fight goes, though he prefers to keep the fight on the feet where he is most dangerous. Dynamic and not afraid to mix things up, 'The Great' has finished fights with heel hooks, guillotines, rear naked chokes, triangle chokes, punches, and knees. No matter what happens, Siyar 'The Great' Bahadurzada will be able to perform to his best wearing the Hayabusa Chikara™ Performance Shorts. Hayabusa is proud to partner with Siyar and expects him to make an immediate impact in the welterweight division.

DaMarques 'Darkness' Johnson has had a wild journey since his stint on The Ultimate Fighter. Since losing in the finals to James Wilkes, Johnson has won 4 of his last 6, with both a KO and submission of the night bonus, and has yet to hear the final bell. Only one of his UFC fights has even reached the third round. DaMarques brings a hard, fast pace to every fight and is very well rounded. With 8 submission and 6 (T)KO wins in his career, Johnson is comfortable where ever the fight takes place. His opponent, John Maguire, is a UK based fighter with slick submissions and a solid striking game. Johnson will look to use a strong wrestling base to control his opponent and take the fight where he wants it. DaMarques 'Darkness' Johnson is proud to train and compete in Hayabusa. Hayabusa would like to wish Johnson success in his upcoming fight and looks forward to another great performance.

Hayabusa would also like to wish Yoislandy Izquierdo the best of luck in his upcoming fight.Izquierdo is making his UFC debut.