UFC on Fuel in China November 10th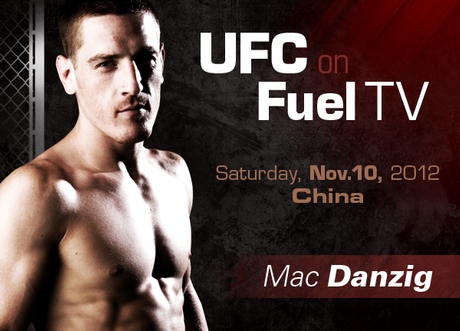 The UFC airs on November 10th from China! This truly is a loaded card with outstanding fights, headlined by an impressive main card featuring pivotal bouts for perennial MMA fan favorites Mac Danzig and Stanislav Nedkov.

Danzig is coming off a huge victory at UFC 145 against Efrain Escudero, when he took down the decorated NJCAA wrestler with a unanimous decision win. Danzig's grappling and wrestling skills have always earned top marks, but it's the noted improvements to his striking game that have helped round the lightweight contender's game into a serious threat in the division. Mac will contest the fight in Chikara shorts.

The Pittsburgh native has set his sights on veteran Japanese fighter Takanori Gomi as he looks to make it two in a row in the big show. Gomi – a renowned grappler – has lost two of his last three fights in the UFC and is looking for a winning streak. For his part, Mac is looking to cement his position as a top contender for the title, and few would bet against the man and his passion to be the best!



This loaded card also brings us the much-heralded battle between the Brazilian, Thiago Silva, and the undefeated Bulgarian phenom, Stanislav Nedkov. It seems like only yesterday that Silva burst on to the scene sporting a 13-0 record. However, Silva hasn't produced a win in his last three fights and is itching to change his ways. Silva will bring his superior BJJ skills to the octagon, looking for a quick submission.

But pundits in the sport are tapping his opponent, Stanislav Nedkov, as a future superstar in the UFC. Nedkov will be fighting in Haburi™ Compression shorts and will be walking out in the Samurai™ t-shirt and Hayabusa® logo hat. Nedkov TKO'd Luiz Cane in his UFC debut, and he's looking to improve his professional record to a perfect 13-0 against Silva. With a win against Silva, we may see Nedkov take his place as a legitimate threat to the light-heavyweight title. Nedkov will bring his own superior BJJ skills (he's a black belt in BJJ) along with devastating striking ability (7 of his wins have come as a result of strikes). After all is said and done, this could go down as a fight for the ages!

Hayabusa would also like to wish Alex Caceras and David Mitchell the best of luck in their upcoming bouts. These gentlemen have chosen to compete in Hayabusa gear and we're honored to work with them. Tune in for what will surely be an amazing night of the highest caliber mixed martial arts!