UFC Fight Night Nogueira vs Davis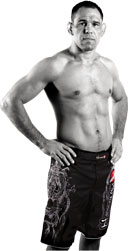 Antonio Rogerio Nogueira is on his path to redemption. Following his loss to Ryan Bader a lot of people have been questioning his ability to battle the wrestlers. This debate will be settled when he locks up with Phil Davis. Lil' Nog is one of the baddest men in the Light Heavy Weight division and should never be counted out. With a 19-4 record this twin is one bad man. The Nogueria's are known for their fighting spirit and ability to take a beating and still come out on top. Watch for Lil' Nog as he comes looking his best in Hayabusa Fight Shorts.
Anthony Johnson is looking to crack some skulls. After a disappointing, and some would say controversial loss to Koscheck, Johnson is looking to "Rumble"! At 6'2", Rumble is one of the biggest guys in the Welterweight Division. This wrestler can also kick, punch, knee, elbow or just grind you into the mat. In his fight with Dan Hardy, a British warrior who will trade with him, watch his devestating kicks flow unimpeded while he wears Hayabusa Fight Shorts.
The rematch is on! Chan Sung Jung gets his shot at redemption. Garcia won the last decision, but many believe that it will not go all the way this time. The rumours abound that "The Korean Zombie" has vastly improved his game and is looking to win. Joe Rogan called their first match up "The Fight of the Decade" now we all get to watch as Jung goes to war in Hayabusa Fight Shorts.
Make sure you also keep an eye out for Sean McCorkle, TJ Waldburger, Mario Miranda, John Hathaway, and Nik Lentz as they try to climb the ladder of success in Hayabusa Fight Shorts.