UFC 167: St-Pierre vs. Hendricks Preview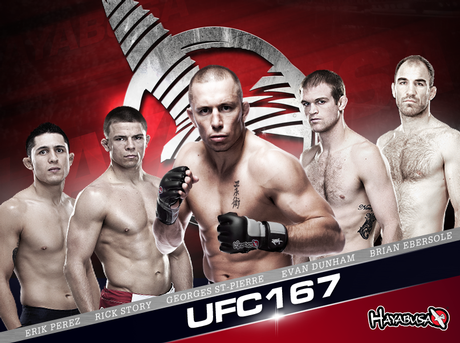 The Ultimate Fighting Championship (UFC) commemorates its 20th anniversary milestone with a massive fight card in Las Vegas at UFC 167.
UFC Welterweight Champion, Georges St-Pierre headlines as he defends his undisputed title for the ninth consecutive time against number one contender, Johny Hendricks (15 - 1 - 0).
Hayabusa fighter and fan favorite, St-Pierre, has dominated the welterweight division since winning back the belt from Matt Serra in 2008. Out of his 24 professional MMA bouts, GSP has lost only two, always returning to the octagon stronger and more disciplined. GSP's most recent fight from UFC 158 was an one-sided match against Nick Diaz, resulting in an unanimous decision win for the reigning champion.
Should GSP win UFC 167, he will beat out UFC hall of famer, Matt Hughes for most wins ever inside the octagon with a record 19.
His new opponent, Hendricks, has cut through the division with ease, taking out other top-title contenders such as Carlos Condit and Mike Pierce. Known for his knockout power, Hendricks stopped both Martin Kampmann at UFC 154 and Jon Fitch at UFC 141 in the first round.
After months of anticipation and hard training, Saturday is judgement day for the two welterweight rivals. Will we see another new champion rise up? Or will GSP retain the UFC title once again?
Rounding off the stacked main card is Rashad Evans vs. Chael Sonnen, Robbie Lawler vs. Rory MacDonald, Josh Koscheck vs. Tyron Woodley, Ali Bagautinov vs. Timothy Elliott.
Donald Cerrone vs. Evan Dunham
Both lightweight fighters enter the octagon with an unanimous decision loss from earlier this year. Dunham made a strong debut into the division with four consecutive victories before ending his streak with Sean Sherk at UFC 119. He later rebounded with wins over Shamar Bailey and Nik Lentz.
Edwin Figueroa vs. Erik Perez
Erik "El Goyito" Perez impressed fans with consecutive wins over John Albert, Ken Stone and Byron Bloodworth. He recently broke the streak after a brutal three round fight against UFC veteran, Takeya Mizugaki at UFC Fight Night 27. Edwin Figueroa enters with back-to-back losses from 2013 and looks to secure a place on the UFC line-up with his first victory since Alex Caceres at UFC 143.
Rick Story vs. Brian Ebersole
Hayabusa fighters, Rick Story and Brian Ebersole take it to the octagon in this prelim welterweight match-up. Story remains the only fighter in the UFC to defeat Johny Hendricks and has had an impressive career since his 2009 debut.
Ebersole was riding a four fight winning streak before losing to James Head via split decision at UFC 149 and looks to get his octagon performances back on track.
Dunham, Perez, Story and Ebersole will all sport the classic Chikara™ Performance Shorts this Saturday at UFC 167. Good luck to Team Hayabusa!
What are your predictions?
Main Card (PPV, 10 p.m. ET)
Georges St-Pierre vs. Johny Hendricks
Rashad Evans vs. Chael Sonnen
Robbie Lawler vs. Rory MacDonald
Josh Koscheck vs. Tyron Woodley
Ali Bagautinov vs. Timothy Elliott
Preliminary Card (FOX Sports 1, 8 p.m. ET)
Donald Cerrone vs. Evan Dunham
Ed Herman vs. Thales Leites
Brian Ebersole vs. Rick Story
Edwin Figueroa vs. Erik Perez
Preliminary Card (Facebook, 6:45 p.m. ET)
Jason High vs. Anthony Lapsley
Will Campuzano vs. Sergio Pettis
Cody Donovan vs. Gian Villante