UFC 161 Preview: Hayabusa Fight Team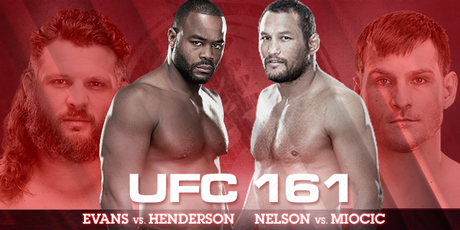 Former UFC light heavyweight champion, Rashad Evans, returns against former Pride and Strikeforce veteran, Dan Henderson, in the main event of UFC 161 at MTS Centre in Winnipeg, Manitoba, Canada.
Less than two months after Roy Nelson's powerful first round KO victory over Cheick Kongo, he is back inside the octagon for the co-main event against Stipe Miocic.
Other anticipated main card match ups include; Alexis Davis vs. Rosi Sexton, Pat Barry vs. Shawn Jordan and Ryan Jimmo vs. Igor Pokrajac.
Hayabusa Fight Team
Ryan Jimmo vs. Igor Pokrajac
Hayabusa fighters, Ryan Jimmo (17 - 2 - 0) and Igor Pokrajac (25 - 9 – 1) kick off the main card on PPV. Jimmo had an impressive UFC debut against Anthony Perosh, achieving his first win via knockout in the first round.
Pokrajac was riding three consecutive wins before a loss to Vinny Magalhaes during UFC 152 and a no contest ruling for UFC on FX 6 after a failed drug test by his opponent, Joey Beltran.
Watch for Jimmo fighting in Hayabusa Haburi™ Compression Shorts and Pokrajac sporting our Chikara™ Performance Shorts during the bout at 10PM ET.
Jake Shields vs. Tyron Woodley
Former Strikeforce fighters, Jake Shields and Tyron Woodley meet in this middleweight match-up. Shields (27 - 6 – 1) has more experience inside the octagon over Woodley (11 - 1 - 0), with a record of two wins, two losses and a no contest from UFC 150.
Woodley claimed a first round victory via KO against Jay Hieron last February in his first ever UFC appearance.
Shields will gear up for the fight this weekend in Chikara™ Performance Shorts and make his entrance to the octagon in our Gentlemen vs. Beast T-Shirt and HAYA-BUSA hat.
Roland Delorme vs. Edwin Figueroa
Winnipeg's Roland Delorme (8 - 1 - 1) returns after a strong UFC debut in 2011, following a submission win against Nick Denis last May during UFC on Fox 3. His opponent, Edwin Figueroa (9 - 2 – 0) enters the match coming off a recent TKO loss from Francisco Rivera in UFC 156.
Delorme will sport our Chikara™ Performance Shorts during the prelim fights on FX starting at 8PM ET.
Yves Jabouin vs. Dustin Pague
Starting off the UFC fight night is Yves Jabouin (18 - 8 - 0) and Dustin Pague (11 - 7 – 0) via the Facebook prelims. Jabouin was on a three-fight winning streak before losing out to Brad Pickett during UFC on Fuel TV 5.
Dustin Pague enters the fight with two decision losses and only one UFC victory via submission against Jared Papazian since his debut in 2011.
Watch Jabouin in his Chikara™ Performance Shorts via Facebook live stream at 7PM ET.
Good luck to the Hayabusa Team at UFC 161. We'll be watching all the UFC action. Follow along with us during the fights on Twitter @Hayabusa_MMA #ufc161.