UFC 156: Overeem vs Silva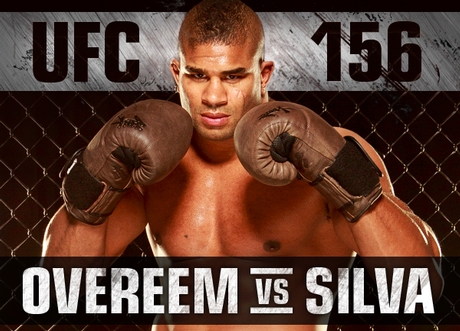 Okay - so the event is technically Aldo vs Edgar. But can you blame us for the email title? We're huge Overeem fans (and he's a big fan of Hayabusa)! And with the media hype machine building like crazy leading up to this bout, it's safe to say this is one fight that will be watched as intently as the main card, if not moreso. The "Reem" has been out of the spotlight for a while now, but he's certainly been anything but inactive. Quite to the contrary, in fact. His training has never been better, his camp never stronger, and his preparation never more sound, grounded and intelligently focused on the task at hand. All signs point to a man ready to assert his rightful claim to the number one contender status and shot at the gold around Velasquez's waist. Silva is going to have his hands full, and then some.

To say that the sport needs Overeem to deliver an uncontested victory would be an understatement. With JDS being upset by Cain, there's a new heavyweight atop the heap. Still, there hasn't been an overwhelmingly dominant champion in the sport's pre-eminent division in a long, long time. Many of the sports top pundits have picked Overeem as the sport's would-be dominant heavyweight title holder in waiting. Few would bet against the devastating Dutchman. We've all seen how the sport grows when dominant champions develop legendary status. One need only see how long-time welterweight champion Georges St-Pierre has been able to literally elevate the sport on his mighty shoulders thanks to his near indominable spirit and performance. One could say the same about Overeem's potential to do the very same for the sport, were he to live up to expectations. And those aren't just the sports expectations...no one has higher expectations than Overeem himself.

This is a night of fights not to be missed. To all the great men who face off in the octagon on Saturday night: we wish you the greatest of success. One thing is for sure - the night's heavyweight victor will go down as surely the next in line to be considered as a rightful heir to a title shot!