UFC 155: Dos Santos vs. Velasquez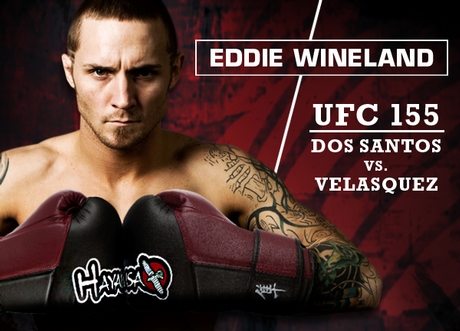 In the final tilt of the year, the UFC makes its 25th return to Sin City's MGM Grand Garden Arena. We're sure heavyweight top contender Alistair Overeem will be looking on to see which man he'll likely face in the next heavyweight title bout. But this card is far more than a heavyweight show. A loaded under-card promises to deliver enough blows and throws to put a smile on your holiday-weary mug!

For starters, there's talk in the industry that the Wineland/Pickett fight may determine the next number one contender spot for the UFC bantamweight division title. Eddie Wineland has proven himself to be, arguably, the most powerful striker in the bantamweight division today. Ten of his 19 wins have come by TKO, including knockout finishes in his last three wins in the UFC. Clearly, there's reason to expect the battle-tested UFC veteran (who will be wearing Hayabusa® Haburi™ compression shorts to the fight) will bring his trademark intensity, preparation and devastating striking skills to the Octagon this night.

Certainly, UFC bantamweight champion Dominick Cruz will be looking on intently as he nurses his knee injury, as will interim champion Renan Barao. If Wineland finishes the fight in grand fashion as many think he can, look for Eddie to get his shot at the title!

Hayabusa would also like to wish Chris Cariaso, Costa Philippou and Todd Duffee the best of luck in their fights. These warriors have chosen to compete in Hayabusa – the brand the professionals use on fight night. It'll be a night of exciting fights to ring in the new year...don't miss it!