UFC 148: Silva vs. Sonnen 2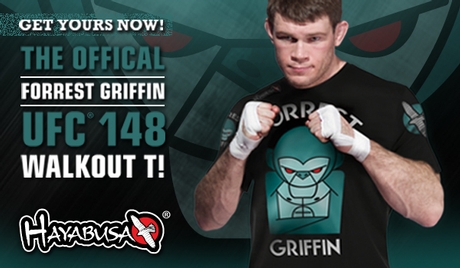 UFC 148: Silva vs. Sonnen 2
Forrest Griffin's Hayabusa Walkout TSaturday July 7, 2012
Las Vegas, Nevada

As the winner of the fight that is credited with putting MMA on the mainstream map, Griffin vs. Bonnar 1 at the TUF 1 finale, Forrest Griffin cemented his place in mixed martial arts history. Griffin's UFC career has spanned 7 years, 14 fights, 2 stints on TUF, 1 as a contestant and one as a coach, and a light heavyweight championship. In the middle of this, Forrest has become a New York Times bestselling author and written 2 books, had cameos in TV and movies, and landed the cover of UFC 2009 Undisputed. Forrest Griffin is now ready to take on, for the third and final time, Tito Ortiz. This is Tito's last fight in the UFC and Forrest plans on sending him into retirement on a loss. They have split the first two fights, each winning one by split decision, but this time Forrest does not plan on letting the fight go the distance. Well rounded and durable, with an underrated submission game, Forrest Griffin is ready for anything. This is a pivotal fight for Forrest, as he looks to return to the win column and show the world that he has more fight in him. Forrest will be walking to the Octagon wearing the Hayabusa Forrest Griffin official UFC 148 walkout T. Forrest Griffin's walkout T is as eclectic as the man himself. The official walkout T is 100% cotton and pure 100% 'Forrest'!

Patrick 'The Predator' Cote returns to the Octagon to take on former Strikeforce champion Cung Le. Cote did not beg or cajole his way back into the UFC. He slugged and pounded 4 straight wins and was ready, willing and excited to take the short notice fight against Le. Patrick Côté wearing Hayabusa Compression Shorts!Originally slated to fight Rich Franklin, Le was paired up with 'The Predator' when Franklin was pulled to fight Wanderlei Silva. Cote, known for his knockout power, has been working relentlessly on his wrestling and BJJ. This training is great for his overall MMA game, but most feel this fight will be a stand up fighters dream matchup. Cote has stood toe to toe with then and current middleweight champ Anderson Silva and only fell due to a previously injured knee. The fight was largely undecided and many felt that Cote had given Silva his toughest challenge to date. Patrick 'The Predator' Cote has been a proud ambassador for Hayabusa for many years and continues to train and compete in Hayabusa. In this pivotal match up, it is only fitting that Patrick, again, will be wearing the Haburi™ compression shorts, as he starts the long climb back to the top of the 185 lb. division. Hayabusa wishes Cote the best of luck and looks forward to another exciting fight from 'The Predator.
Hayabusa would also like to wish Melvin 'The Young Assassin' Guillard, Ivan Menjivar, Gleison Tibau, Constantinos Philippou, and John 'The Natural' Alessio the best of luck in their upcoming bouts. These amazing warriors each choose to train and compete in Hayabusa.