UFC 146 Dos Santos vs. Mir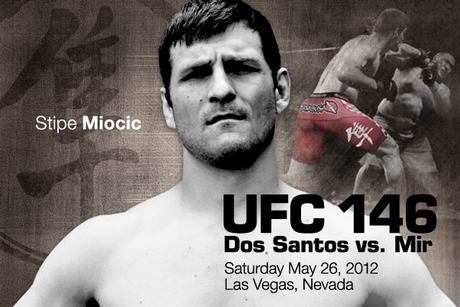 Heavyweight stand out Stipe Miocic has never tasted defeat. Stipe is 2-0 in the UFC and 8-0 in his pro career. At 6'4" and 240 lbs., Miocic is not big for a heavyweight, but he has wicked power, speed, accuracy and technique. Stipe is one of the fastest rising stars in the 265 lb. division, but so is his opponent Shane Del Rosario. Rosario had his career put on hold after being rear ended by a drunk driver, but is now ready for action. Stipe, a natural athlete, was watched closely by Major League Baseball in college and was also a nationally ranked collegiate wrestler for Cleveland State. Miocic, a former golden gloves champion, has the ability to win no matter where the fight goes. Stipe, a Croatian American, will proudly display his heritage at UFC 146 in the Hayabusa Haburi™ Croatian Compression shorts. The Haburi™ compression line is the premier choice in professional compression wear. Hayabusa is excited to, once again, partner with Stipe Miocic and expects another great fight.
Daniel 'The Pit' Pineda is about to fight for the third time in the UFC and it is also his third fight this year. Pineda is on a seven fight win streak and has finished all 17 of his victories, 11 by submission and 6 by KO. Daniel is a well rounded fighter and is dangerous in any situation. 'The Pit' is a heavy handed featherweight with great submissions. Both his UFC fights have ended in 1st round submissions and Pineda wants to make it three in a row. Daniel 'The Pit' Pineda will be head to toe in Hayabusa when he challenges Mike Brown, a former WEC champion.
Hayabusa would also like to wish Jason 'Mayhem' Miller and Lavar 'Big' Johnson the best of luck in their upcoming bouts. 'Mayhem' is looking to get back on the winning track, while Lavar would love to add another 1st round KO, which would make it three in a row in 2012.