UFC 141 Lesnar vs. Overeem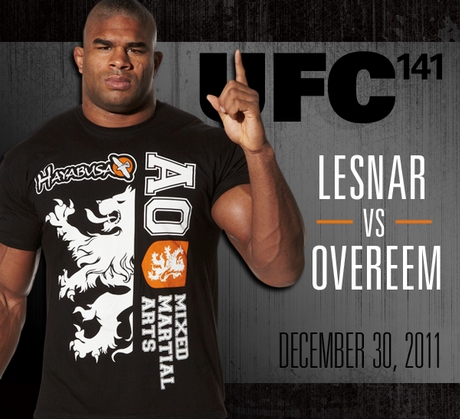 There are few mixed martial artists who can, at the age of 31, boast as many accomplishments as Alistair "The Reem" Overeem. "The Reem" is a once in a lifetime athlete and after many years of competing is finally making his Octagon debut. Overeem has fought for, and won titles, in many different organizations.
Even as a boy, Alistair was a great athlete, competing in sports like judo and basketball, but it was when his brother took him to Chris Dolman's gym to learn self-defence that his life would change. Like most young men he did not like training, at first, but after he started training with people like Bas Rutten, Overeem started to enjoy what he was doing and thought that he might be able to make a go at fighting professionally.
Overeem made his professional fighting debut at the tender age of 19 and won via guillotine choke. This was only the start as he would go on to amass a 10-3 record before heading to Pride FC. On July 20, 2002 "The Reem" made a memorable debut defeating Yusuke Imamura by TKO in just 45 seconds. His pride stint was a memorable one as he would go on to defeat fighters like Vitor Belfort, Igor Vovchanchyn and Sergei Kharitonov.
Alistair Overeem would go on to fight in Strikeforce, K-1, Dream, 2H2H and K-1 Hero's. Throughout this time Overeem would amass a list of accomplishments that most can only dream about;
2H2H Light Heavyweight Champion
2H2H Light Heavyweight Tournament Champion
Dream Heavyweight Champion
Strikeforce Heavyweight Champion
2005 ADCC European Champion
K-1 2009 World Grand Prix Third Place
K-1 2010 World Grand Prix Champion
Most would characterize "The Reem" as a striker, but in the world of MMA you have to be well rounded. Lesnar, a wrestling powerhouse will be looking to try to take Alistair down. In order to do this, Lesnar will first have to get past the incredibly powerful striking of Overeem. "The Reem" loves to throw knees and we can expect that when Brock shoots in Alistair will be looking to connect his knee with Lesnar's chin. In MMA you start the fight on your feet, which is exactly where "The Reem" has a huge advantage. There are few people on the planet that can, or will, stand and trade punches, knees and kicks with Overeem. Even if Lesnar gets him down, Alistair has a great submission game and one of the most powerful guillotines in MMA.
This fight is the start of a new chapter in the story of Alistair "The Reem" Overeem . Deemed a #1 contenders match, this is the biggest fight of his career. The UFC Heavyweight Championship is the most prestigious title in MMA and Overeem is prepared to beat Brock Lesnar and start his journey to the top.
Hayabusa would also like to wish Nam Phan and Vladimir "The Janitor" Matyushenko the best of luck in their upcoming fights at UFC 141. Both these great fighters train and compete in Hayabusa. Hayabusa is proud of the long standing partnerships with these two warriors and expect them to bring the fight to their opponents.
Overeem has the best training partners, the best coaches and trains with the best equipment in the industry. Alistair "The Reem" Overeem is proud to partner with Hayabusa for all his training needs. At UFC 141 Overeem will be walking to the Octagon wearing the official Hayabusa-Alistair Overeem UFC 141 walkout T-shirt.