TUF Finale Team Lesnar vs Team Dos Santos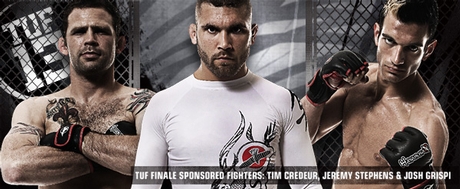 It has been over a year and a half since "Crazy" Tim Credeur has been in the Octagon. This Cajun warrior is one of the most exciting fighters to watch. Even in defeat you have to respect what he brings to ever fight; heart, determination, and the true "Spirit of the Fighter". Always dangerous and crafty, Tim will be ready to extinguish the "Short Fuse" Ed Herman. His dynamic ground game is complimented by his willingness to stand and bang with a fury that surprises all. Look for Tim to make a great entrance wearing the Hayabusa Pro Lightweight Gi.
When the bell rings to start a Lil' Heathen fight make sure not to blink. Jeremy Stephens has some of the heaviest hands in the Lightweight division and is not afraid to stand in the pocket and throw bombs. The winner of 3 knock outs of the night and a fight of the night, with Sam Stout, Stephens is always one of the most exciting fighters on any card. Watch Jeremy fight in style wearing the Hayabusa Mizuchi Fight Shorts.
Featherweight stand out Josh Grispi is looking to get his first win in the UFC. Going 4-0 in the WEC, with notable wins over Jens Pulver and Micah Miller, Josh is a well–rounded fighter with a great ground game.
With 3 of his 4 WEC wins coming by 1st round submission, Grispi is the future of the 145lb division. Look for this amazing young fighter as he will be easy to spot in the beautiful Hayabusa Team H T-shirt and Hayabusa Shiai Pro Competition Shorts.
Ken Stone and Reuben Duran are two of the rising stars of the Bantamweight division. Both of these fighters will be looking to make a name for themselves' and are ready for anything. They will be able to fight with confidence knowing they are wearing the #1 Trusted Brand in MMA. The Hayabusa Shiai Pro Competition Shorts will allow these 2 young fighters strike and grapple their way to UFC victories.