8 Father's Day Gift Ideas for the MMA Dad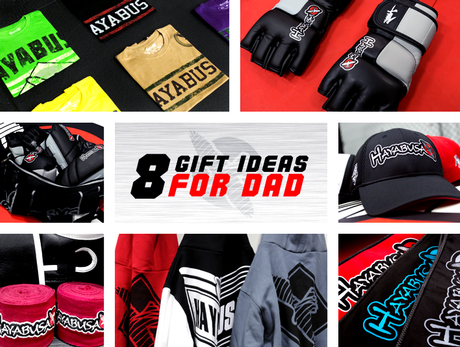 With Father's Day fast approaching, Hayabusa has you covered with our top gift ideas that will make any MMA obsessed dad happy. From the die-hard mix martial artists to the laid back weekend warriors, our gear and apparel picks will cover all your bases.
Ditch the tie this year and get your dad something he can really put to use.
Top 8 Father's Day Gifts From Hayabusa;
#1 - Hayabusa® Legacy Hat

With a clean and simple design, premium embroidered peregrine falcon logo and Hayabusa kanji, this new, comfortable hat completes your casual combat style.

Shop

#2 - Metaru Performance Shorts

Constructed with exclusive high-performance technology and reinforced T3 stitching, Metaru™ Performance Shorts are designed to help you outperform the competition time and time again.

Shop

#3 - Hayabusa® Champion Hoodie

This throwback, athletic-fitting hoodie sports the traditional varsity look and is developed with ultra-fine cotton for extreme comfort.

Shop

#4 - New Hayabusa® T-Shirts

Explore the new Hayabusa T-Shirt Collection with options like Tokyo Buzz, Tradition or Scuffle.

Shop

#5 - Hayabusa® Beach Towel

Keep dry during and after training sessions with the all-new Hayabusa Beach Towel. Crafted from 100% terry cotton for an ultra-soft touch.

Shop

#6 - Hayabusa® Perfect Stretch Handwraps

Don't take chances with your hands. With Hayabusa's stretch handwraps, you have the power of the most innovative performance grade materials.

Shop

#7 - Weld3™ Fight Shorts

Equipped with exclusive Ultrasonic Weld3™ Technology, Hayabusa Weld3™ Fight Shorts are scientifically developed with a form of sonic welding (thermal bonding) that delivers unmatched strength and zero abrasion.

Shop

#8 - Tokushu™ Series 16oz Gloves

Tokushu's patented Dual-X™ closure system and Fusion Splinting™ are sophisticated designs that ensure perfect hand/wrist alignment, optimizing striking power and injury prevention.

Shop
---
What are you getting your dad?